Rangers lose grip on AL West lead
Rangers lose grip on AL West lead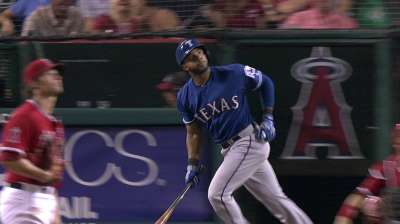 ANAHEIM -- Everything was set up for the Rangers to get back on track, but instead they lost, 6-5, to the Angels on Friday night at Angel Stadium.
Not only did the Rangers lose for the fifth time in seven games, but the club also fell out of first place as Oakland topped the Astros to take a half-game lead in the American League West.
"It's September, it's the stretch run," Matt Garza said. "Everybody's fighting for those 10 spots and why not? It's what makes it a lot more fun."
After an off-day Thursday, the Rangers opened up a three-game set against a team they had beaten seven straight times and a pitcher -- C.J. Wilson -- who began the night 0-2 with a 8.63 ERA against the club he once anchored.
While an early 3-0 lead had Texas in good position, Garza struggled, allowing six runs on nine hits in seven innings, and has now allowed four or more runs in six of his last seven starts.
"He's going deep in ballgames," Rangers manager Ron Washington said. "It's just one inning where things get a little bit unraveled. We know this guy can pitch, there's no doubt about it. It's just a matter of maintaining it throughout the game like he did after that inning -- put up some zeros."
On Friday, that inning was the fourth.
The right-hander cruised through the first three innings, but six of the Angels' first seven batters reached base in the fourth. They sent 10 batters to the plate and scored five runs.
"You just keep grinding, keep going and keep pitching," Garza said.
After four of the first five batters in the fourth singled, Mark Trumbo highlighted the scoring with a three-run home run -- making him the sixth Angels player to record back-to-back 30 home run seasons.
"When you're in the middle of things, at least for me personally, I don't get too up or down on any of the numbers," Trumbo said. "I feel like each and every day, you're fighting a war and nothing comes easily, especially for me. I'll probably reflect on it a little more in the offseason, but as of right now there's still a few things I want to accomplish."
The Rangers came in with a track record of success against Wilson and challenged him early.
In the Rangers' six games leading up to Friday, they hit just .133 (6-for-45) with runners in scoring position, but A.J. Pierzynski and Alex Rios -- who also hit a solo home run -- provided Texas with back-to-back RBI singles in the third inning to give Texas a 3-0 lead.
However, that lead was short lived as the Rangers dropped their third of four games on the road trip.
Elvis Andrus, returning from back stiffness that kept him out of the Oakland series, added a solo home run in the seventh, but it was not enough to beat Wilson, who allowed four runs on seven hits in 6 2/3 innings.
"That's what he does," Washington said. "He doesn't give into anyone out there. They got him the five runs and I didn't think he pitched any different than he did in the first three innings. He got the five run fourth inning and I still saw him do the same thing. That's C.J. he's not going to give into anybody. He's going to pitch his game, and that's what he did."
Wilson kept the Rangers in check, but Texas certainly had its chances.
"It was one inning. If that could have been a two-run inning or a three-run inning, it's a different story. But it was a five-run inning, they went up 5-3," Washington said.
William Boor is an associate reporter for MLB.com. This story was not subject to the approval of Major League Baseball or its clubs.