Kemp shut down with hamstring problems
Kemp shut down with hamstring problems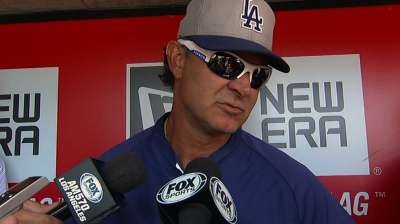 CINCINNATI -- Dodgers outfielder Matt Kemp has been shut down indefinitely with a tight right hamstring.
"He's not having a very good couple of days here," manager Don Mattingly said before Friday's opener vs. the Reds. "He felt some hamstring stuff yesterday, so he didn't hit today. I would say he's slowing his roll a little bit."
Kemp is on the disabled list with an ankle sprain, but he was feeling discomfort in the hamstring he injured earlier in the year. He's been on a rehab assignment, but this setback will keep him out longer.
Mattingly said there's a possibility Kemp will not return this season.
"I don't like to concede anything," he said. "If the hamstring jumps back in there, we've got more issues."
Kemp's rehab this week shifted from Class A Rancho Cucamonga to the Dodgers' Spring Training complex in Arizona. Kemp had gone 0-for-18 with seven strikeouts in five rehab games with Rancho Cucamonga.
It's been an overall disappointing season for the two-time All-Star, who has been held back by injuries and appeared in only 62 games. Kemp is hitting .263 with five homers and 27 RBIs.
Jeremy Warnemuende is a reporter for MLB.com. Joey Nowak is a reporter for MLB.com. Follow him on Twitter at @joeynowak. This story was not subject to the approval of Major League Baseball or its clubs.