Trumbo's landmark shot helps Angels sting Texas
Trumbo's landmark shot helps Angels sting Texas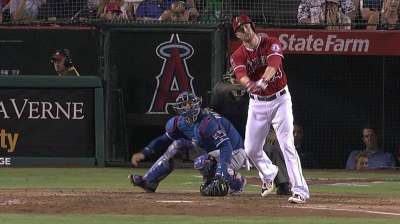 ANAHEIM -- Mark Trumbo can be in the depths of a debilitating slump, and yet always seem as if he's on the verge of impacting an entire game with one swing. His bat is that potent, his power that prodigious.
"He might have two rough games and look really rough for eight at-bats, then the next game he hits four rockets," Angels manager Mike Scioscia said. "He's very dangerous in the batter's box, and you saw it tonight."
When Trumbo came to bat in the fourth inning on Friday, with two on, one out and the Angels down a run, he was cloaked in a 7-for-51, 21-strikeout, zero-walk slump that dropped his batting average from .243 to .233 and had his home-run total stagnant. Then he got an 0-1 slider from Matt Garza out over the plate, and there it went -- three-run homer, No. 30 on the year, and the difference in an eventual 6-5 win over the Rangers.
"It's special to watch Trumbo when he really gets into one, because he doesn't hit a lot of balls that you're like, 'Oh, maybe it'll get out,'" said C.J. Wilson, who notched his 15th win. "Every one he hits, you're like, 'Oh, that's going all the way out.' Like, 'What's it going to hit?' It's exciting."
Trumbo's home run made him only the sixth player in Angels history -- not to mention the seventh in the Majors over these last two seasons -- to hit 30-plus homers in back-to-back years. Nobody had done it for the franchise since Vladimir Guerrero from 2004-06, and only two -- Troy Glaus and Tim Salmon -- did it before the age of 28.
The other two you also know: Don Baylor and Mo Vaughn.
"It is nice, sure," the 27-year-old Trumbo, an Angels fan growing up, said of being on that list. "For a guy who's a power hitter, it is nice to hit for power. I think 30, especially in this day and age, is a pretty fair amount. I think 20 is a lot with the way the game is today. Hopefully everyone is on an even playing field. It's a lot harder to pop them out, especially in one of these AL West stadiums."
The Angels have long been out of the playoff race, but they're riding some rare momentum as the curtain closes on 2013. The latest victory, sealed on Ernesto Frieri's strikeout of Ian Kinsler, was their seventh in the last nine games and the 11th of their last 14, putting them eight games below .500.
At last, they beat the Rangers.
The Angels had lost a franchise-record-tying seven in a row against Texas (80-60). Three came on back-to-back-to-back walk-off losses in Arlington from July 29-31, marking just the second time that had occurred in Major League history. Two came on back-to-back games that saw the Rangers rack up 13 stolen bases at Angel Stadium.
Wilson, who entered 0-2 with an 8.63 ERA in six career starts against his former team, was well aware of the losing streak.
"Everybody watches ESPN and sees the bottom line when they put those stats up there, that they've beaten us seven times in a row," Wilson said after giving up four runs in 6 2/3 innings. "I just know this is my first win against them. I've pitched some good games against them and some bad games against them and finally got one. We have a month left to play. It's just important that we finish with a little bit of momentum."
There's no better sign of momentum than the ability to string together rallies.
Down, 3-0, in the fourth inning, the Angels got singles from J.B. Shuck, Erick Aybar, Mike Trout and Kole Calhoun to make it a one-run game against Garza, who entered 3-2 with a 4.04 ERA since joining the Rangers before the non-waiver Trade Deadline. And then up came a slumping Trumbo.
"I left a slider over the middle," Garza said, "and Trumbo did what he does to sliders you leave over the middle."
And now -- at last -- he's in prestigious company.
"When you're in the middle of things, at least for me personally, I don't get too up or down on any of the numbers," Trumbo said. "I feel like each and every day, you're fighting a war and nothing comes easily, especially for me. I'll probably reflect on it a little more in the offseason, but as of right now there's still a few things I want to accomplish."
Alden Gonzalez is a reporter for MLB.com. Read his blog, Gonzo and "The Show", and follow him on Twitter @Alden_Gonzalez. This story was not subject to the approval of Major League Baseball or its clubs.