Rays show spark, but late mistakes prove costly
Rays show spark, but late mistakes prove costly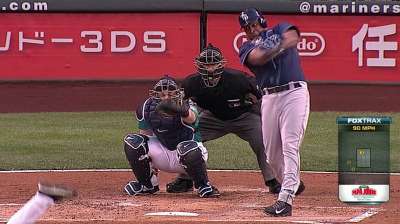 SEATTLE -- A gaffe on the bases and one in the field perpetuated the Rays' West Coast struggles Friday night when the Mariners took a 6-4 win at Safeco Field.
The Rays are now 2-6 on the current 10-game road trip and 3-8 since beginning a stretch of 13 consecutive games against American League West teams.
Meanwhile, the first-place Red Sox increased their margin in the AL East over the Rays to 7 1/2 games and the Indians moved to within two games of the Rays for the second AL Wild Card spot.
Tampa Bay trailed, 4-3, in the eighth when a rally came to life when the Rays got runners on first and second with no outs. But Mariners reliever Carter Capps picked off pinch-runner Sean Rodriguez from second base for the first out. Capps then retired pinch-hitter David DeJesus to bring pinch-hitter Luke Scott to the plate.
Scott delivered a double to left-center field to drive home Wil Myers to tie the score at 4, but that was all the Rays got despite having three walks, a single and a double in the inning.
"Just got too far away from the bag," Rodriguez said. "Needed to stay closer to the bag. ... Just messed up. Plain and simple. I mean there's really no explanation, it's just something that should never happen, but it did."
Capps said shortstop Brad Miller called the play.
"He was there and luckily the throw was too," Capps said. "I think the guy was in a big secondary lead, waiting for a bunt with no outs and runners on first and second. I assume he was bunting. I guess the guy just got a little too happy on second. It was a great call by Miller and it paid off."
Miller explained that Capps has a really good move and "likes doing that."
"If it works, it works, if it doesn't, at least we're keeping him close," Miller said. "I really didn't see anything. The guy is bunting, so I'm there anyway. I'm trying to keep him real close. From my angle, I have a good view and I'd have done the same thing [as Rodriguez]. I'm not going anywhere because I'm not running. But if I'm running, I'm taking a secondary too because he holds it and sells it so well. That was pretty big. He always wants to do it, so that was perfect. That was a big out."
Things continued to go south for the Rays in the bottom half of the inning.
Kyle Seager hit a ball to deep left-center field with one out that Rays center fielder Desmond Jennings dropped on the edge of the warning track, allowing Seager to reach second base.
"It wasn't the lights, it wasn't the sun, it just popped out of my glove," Jennings said.
Joel Peralta then walked Kendrys Morales. One out later, Justin Smoak doubled to right past a diving Myers to score Seager and pinch-runner Abraham Almonte to give the Mariners a 6-4 lead.
"I gave it a good effort," Myers said. "Just hit off the heel of my glove. Just over dove a little bit."
After the game, Rays manager Joe Maddon was displeased about just one of the mistakes.
"That game right there," Maddon said. "A lot of negative things can happen. You can strike out with the bases loaded, you can hang a slider, you can do a lot of different things. But you can't get picked off at second base. That's the only thing that really bothered me about all of that. I mean people make errors, they swing at pitches in the dirt, etc. But the one part of the game that upset me was that. I'm just being honest. Because there was no play on. There was nothing on, that was straight up baseball."
Alex Cobb started for the Rays hoping to build on the complete game he tossed in a losing effort against Oakland on Saturday, but the Mariners got out of the chute quickly on Seager's sacrifice fly to center field in the first inning.
Delmon Young answered for the Rays when he led off the second with a solo home run off Hisashi Iwakuma. Young's first home run since returning to the Rays tied the score at 1. Young last homered for the Rays on Sept. 23, 2007 off Boston's Tim Wakefield.
Ben Zobrist scored on an Iwakuma wild pitch with the bases loaded in the third to put the Rays on top, 2-1. But the lead proved to be short-lived as Franklin Gutierrez and Seager had RBI singles in the third to again give the Mariners the lead.
Raul Ibanez added to the lead with his 27th home run of the season, a solo shot off Cobb that landed in the right-field stands.
Young doubled with one out in the sixth and scored on Jose Molina's single to right to cut the lead to 4-3.
Cobb allowed four runs on seven hits and a walk in the no-decision.
"It's a really hard game to lose, man, but you have to come back tomorrow and play," Maddon said.
Bill Chastain is a reporter for MLB.com. This story was not subject to the approval of Major League Baseball or its clubs.