Wrist injection could delay Pearce's return from DL
Wrist injection could delay Pearce's return from DL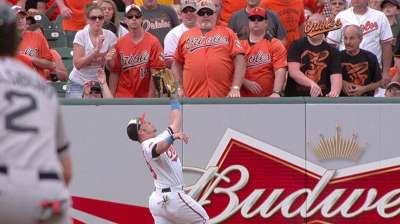 BALTIMORE -- Steve Pearce, again on the disabled list due to wrist tendonitis, is going to get an injection to help it heal, but it could make it tougher for him to return as early as the team hoped.
Manager Buck Showalter said the injection could make a Sept. 12, return "a challenge," but they're just going to have to see how the wrist reacts.
"[It] still could happen," Showalter said. "I think they're trying to get the last bit out, and they think by doing this, they could resolve it for the rest of the year."
But Showalter is still not sure when Pearce could return this season. He spent time on the DL earlier this season with the issue, then went back down on Aug. 31.
Jeff Seidel is a contributor for MLB.com. This story was not subject to the approval of Major League Baseball or its clubs.