Harper returns after getting two days of rest
Harper returns after getting two days of rest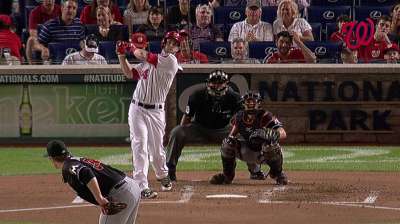 MIAMI -- Seven games behind the Cincinnati Reds for the second National League Wild Card spot, the Nationals need their starters in the lineup every day.
Left fielder Bryce Harper returned after sitting out Wednesday's series finale against the Phillies because of a hip strain. The team had an off-day Thursday.
"He wasn't feeling that great coming in, but he came in and after he got a little treatment he said, 'I'm not 100 percent, but I want to be in there,'" Nationals manager Davey Johnson said. "'Well, you're in there.'"
The origin of the injury remains unknown, but Harper got treatment right before Monday's game. On Tuesday, he went 0-for-5 and scored two runs.
"Just a little hip sprain," Johnson said. "He still can run good. I think occasionally, he aggravates it at home plate on a swing and as soon as he gets out of the box. The trainers informed me that it's not something that will get worse, so he can play with it."
Christina De Nicola is a contributor to MLB.com. This story was not subject to the approval of Major League Baseball or its clubs.