Guzman's pinch-hit single gives Padres win over Rox
Guzman's pinch-hit single gives Padres win over Rox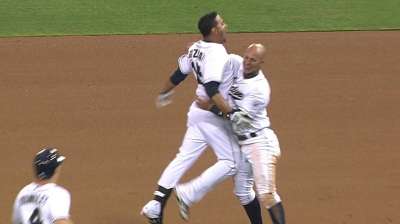 SAN DIEGO -- Trailing by one in the bottom of the ninth, the Padres played long ball to tie the game, then small ball to win it, rallying for a 4-3 series-opening win over the Rockies on Friday night.
Chase Headley smashed a game-tying homer off the facing of the third level of the Western Metal Supply Co. building in left field to start the rally. Then Jesus Guzman capped the comeback with a single that hugged the left-field line as it bounced past Rockies third baseman Nolan Arenado.
"I saw the ball was fair with the umpire," Guzman said, grinning. "I didn't know if it was fair or foul. It's fair, because we won."
Rockies manager Walt Weiss came out to argue the call to no avail.
"It shouldn't have gotten to that point," Weiss said. "We needed to put that game away."
Guzman's single scored first baseman Kyle Blanks, who had walked. Alexi Amarista followed with a perfectly placed bunt hit, and Ronny Cedeno sacrificed the two baserunners into scoring position.
As for Headley, his night couldn't have started any worse. He struck out three times in three at-bats against Rockies starter Juan Nicasio, and he wasn't even close. Of the 10 strikes he saw from Nicasio, Headley managed to make contact with just one, fouling it off.
"It's funny how this game works," Headley said. "Some of the best games you ever have are the worst games you ever have until the last at-bat."
Working in Headley's favor was the fact that the switch-hitter was able to switch to the right side of the plate after such a dreadful night in the left-handed batter's box.
"Sometimes when you just get a look from the other side of the plate, it can really help," Headley said.
Headley's homer neutralized Todd Helton's leadoff shot in the top of the ninth off the typically reliable Huston Street. Street hadn't allowed a run since June 23, but it took only one pitch for him to have that streak snapped.
"Today they nicked him," Padres manager Bud Black said. "He threw a fastball out over the plate, and a guy that's potentially a Hall of Fame player hit a home run. That's going to happen. He's been very, very good the last couple of months."
Before the game, left fielder Chris Denorfia took home the Padres' Heart and Hustle Award, and in the sixth inning, he showed why. Denorfia scored from first base on an infield groundout to tie the game at 2.
On a slow chopper to third, Denorfia alertly noticed that no one was covering the vacated base and broke toward third. The throw from Helton sailed, and Denorfia headed home, where he slid in safely with a perfect head-first dive, narrowly avoiding Nicasio's tag.
Denorfia's run got Burch Smith off the hook for the loss. Smith tossed five solid innings, allowing just two first-inning runs on four hits and four walks. He struck out seven and threw 96 pitches.
"It definitely wasn't pretty," Smith said. "I'd like to do it a little bit better, cut down on the walks, definitely. But it was good to at least get through five innings and battle."
Smith's ability to limit the damage had his manager impressed after the game. Through three batters, Smith had already allowed a run to score and had runners on second and third.
"From there, he hung in there," Black said. "It was sort of a gutsy performance by Burch as he went through it. He was teetering."
Perhaps Smith's most impressive inning came in the third, when he began the frame by putting two men on base. Facing the middle of the Rockies' order, Smith got two weak ground balls and a strikeout, keeping the Padres deficit at 2-1.
The Padres scored their first run on the eighth leadoff homer of Will Venable's career -- a franchise record. Of Venable's 21 home runs this year, 15 have come at Petco Park, also a single-season club record, passing the 14 Adrian Gonzalez hit in 2008.
Venable and Headley provided the thump for two of the Padres' runs, and they scored the other two through small ball on the basepaths. So which way does Black prefer?
"I always like the long ball," Black, a former big league hurler, quipped. "I gave up over 200 of those, so when our guys hit 'em, I sort of like 'em."
AJ Cassavell is a reporter for MLB.com. Follow him on Twitter @ajcassavell. This story was not subject to the approval of Major League Baseball or its clubs.