Helton's blast not enough, as Rockies' 'pen falters
Helton's blast not enough, as Rockies' 'pen falters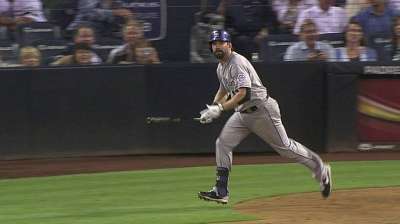 SAN DIEGO -- Rockies first baseman Todd Helton provided much of the color to Friday night's game against the Padres, but ultimately was a bystander when the game was finally decided.
Helton's sixth-inning throwing error let the Padres tie the game, and he gave the Rockies the lead in the ninth with a homer to center field. But the Padres' Chase Headley opened the bottom of the inning with a massive game-tying homer to left, and Jesus Guzman's one-out, bases-loaded single sent the Rockies to a 4-3 loss at Petco Park.
The Padres' ninth-inning comeback came against Rockies closer Rex Brothers (2-1), who sometimes struggles with his command early in innings. It was just Brothers' second blown save -- and his first as the Rockies' primary closer, with veteran Rafael Betancourt on the disabled list.
"You make bad pitches, you get beat in this league," said Brothers, who also gave up a walk and a bunt single. "I don't know if I made a single pitch tonight. It goes hand-in-hand."
Helton's deep home run to center off Huston Street (2-4) gave the Rockies a 3-2 lead.
Headley crushed Brothers' 2-0 fastball 412 feet to tie the score.
"He's a really good pitcher," Headley said. "He's got a really good fastball, he's got a really good slider, so he's a guy you don't want to get deep in the count with."
Brothers then walked Kyle Blanks, Alexi Amarista reached on a bunt single and the runners advanced on Ronny Cedeno's sacrifice.
After an intentional walk to Nick Hundley, pinch-hitter Guzman singled down the left-field line. Nolan Arenado, who came off the bench to finish the game at third base, and manager Walt Weiss, protested to third base umpire C.B. Bucknor that the ball didn't land fair behind the third-base bag, but to no avail.
"It's tough to tell from where I'm standing, but I'm going off my player's reaction," Weiss said. "What made it tough was it landed well past the bag, so it's hard to tell when it was in the air going over the bag where it was. I wanted to know if he had a good look at it. He kind of got turned around. That's what I was asking.
"It shouldn't have gotten to that point. We needed to put that game away."
Brothers has struggled lately, having given up seven hits and four walks in his last four outings.
"I haven't felt as good of late, but you go through swings like that," Brothers said."It's more making pitches. I told myself over and over again to stay on top of that. I haven't done as good a job of that lately."
It appears Helton, who turned 40 on Aug. 20 -- and who hasn't announced his retirement but finishes his contract this year and has given no indication he will return -- is going out with a blast, as he has five homers in his last eight games. The homer ended Street's scoreless streak of 20 1/3 innings.
It was Helton's 10th career home run at Petco, where the Padres moved in the fences this season to promote more home runs. Helton is tied with Pablo Sandoval, Justin Upton and Adam LaRoche for most homers by a visiting player in the park's history.
"To go dead center at night here is not easy to do, so he got all of that," Weiss said.
In the sixth, with Rockies starter Juan Nicasio pitching well, Helton's throwing error let the Padres tie the game. With Chris Denorfia at first and no outs, Jedd Gyorko hit a chopper to the left side, and shortstop Troy Tulowitzki and third baseman DJ LeMahieu both charged. LeMahieu made the throw to first base, but no one was covering third and Denorfia headed there.
Catcher Wilin Rosario dashed toward third and Helton elected to throw. The ball sailed behind Rosario and into foul ground in left. Rosario chased it down and made a twisting throw home to Nicasio, but he couldn't make the tag.
Until then, all the scoring had occurred in the first inning. The Rockies scored twice on three hits, including doubles by Dexter Fowler and Tulowitzki, and Michael Cuddyer's RBI groundout. Will Venable cut the lead to 2-1 with a leadoff homer in the bottom of the inning.
Nicasio went six innings, holding San Diego to four hits and two runs, one earned, with seven strikeouts and two walks. Nicasio was at his best in the fifth, when Cedeno and Hundley singled and pinch-hitter Mark Kotsay drew a walk with one out. But Nicasio forced Venable into a double-play grounder.
Smith also recovered from his rough first. He went five innings and gave up four hits and two runs, with seven strikeouts and four walks.
The Rockies also had Fowler aggravate his twisted left knee -- an injury that had cost him six games recently. Fowler suffered the injury stealing a base in the fifth, and he left in the sixth. The Rockies said he is day to day.
Thomas Harding is a reporter for MLB.com. Read his blog, Hardball in the Rockies, and follow him on Twitter @harding_at_mlb. This story was not subject to the approval of Major League Baseball or its clubs.