Heyward meets with docs; no timetable on return
Heyward meets with docs; no timetable on return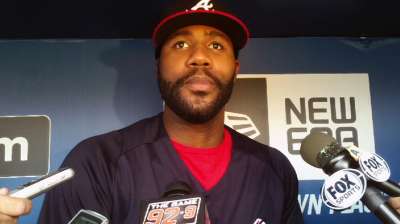 PHILADELPHIA -- Jason Heyward had a positive meeting with doctors about his broken jaw Friday and will meet with them again Monday before he takes his next step to returning to the Braves' lineup.
The 24-year old has already been hitting off a tee, but yearns for more as he recovers from a broken jaw suffered Aug. 21 on a pitch from Mets starter Jon Niese.
There is no timetable for his return and Braves manager Fredi Gonzalez said the young outfielder will need to see game action before rejoining the team. Instructional League begins Sept. 16 and games start one week later, which could be perfect timing.
"I don't have any expectations," Gonzalez said. "The report was he looked good. There is a chance he'll rejoin us on Monday or Tuesday in Miami.
"I don't know how much hitting we want him to do [without supervision]. Off the tee is fine, maybe some cardio, but I really don't know."
Michael Radano is a contributor to MLB.com. This story was not subject to the approval of Major League Baseball or its clubs.