No timetable for Alonso's return from injury
No timetable for Alonso's return from injury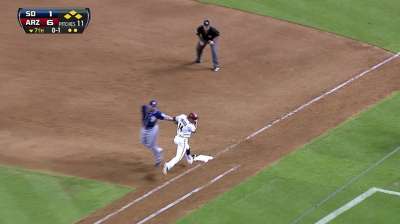 SAN DIEGO -- Padres manager Bud Black said there is no set cut-off date for first baseman Yonder Alonso to make a return this season as he recovers from an injured right hand.
Should Alonso get healthy for the season's final few games, he'll likely play then. Should Alonso only be healthy enough to play as a late-inning defensive replacement, Black plans to use him as one.
"He's motivated to play," Black said. "He wants to play sometime this year. Let's hope that the hand cooperates."
Alonso, who hasn't played since Aug. 30, has spent the last few pregame sessions taking ground balls, but he has yet to return to the batting cage. He was originally expected to miss a little more than a week, but now it appears he'll be sidelined longer than that.
In other injury news, left fielder Carlos Quentin was back in the Padres' clubhouse after undergoing successful surgery on his right knee Tuesday.
Black said Quentin, who was on crutches under doctors orders, was in very good spirits all day -- and understandably so.
"Nobody likes to have surgery," Black said. "But I think there's some clarity, and maybe Carlos' mind is at ease knowing that what was causing him the pain hopefully was taken care of."
AJ Cassavell is a reporter for MLB.com. Follow him on Twitter @ajcassavell. This story was not subject to the approval of Major League Baseball or its clubs.