Rockies to pitch Oswalt this weekend
Rockies to pitch Oswalt this weekend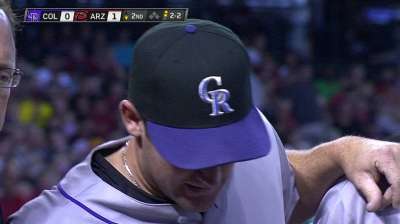 SAN DIEGO -- The Rockies activated veteran right-hander Roy Oswalt on Friday and will use him on Sunday in tandem with right-handed rookie Chad Bettis.
Oswalt has not pitched in the Majors since July 7, when he strained his left hamstring. He also suffered a setback during rehab. But coming off a strong rehab outing for Rookie level Grand Junction on Tuesday (no runs, three hits in 5 2/3 innings), Oswalt, 36, is ready to return. Bettis (0-3, 5.45 ERA in seven starts) will start on Sunday and Oswalt will follow. After that, the Rockies will work Oswalt into the starting rotation as the team formulates its plans for 2014.
"I'm going to piggy-back him behind Bettis on Sunday," Rockies manager Walt Weiss said. "We're trying to build Roy back up to make a few starts before the end of the season.
"I'd like to get a good look at him before the end of the season. We feel like he could help us. He's missed a lot of time, but we still like him enough to watch him pitch the rest of the year."
The Rockies would like to go into Spring Training with an experienced pitcher or two competing for rotation spots. This year, the Rockies signed lefty Jeff Francis during the winter and righty Jon Garland just before the start of the season, although neither made it to midseason in the rotation.
Oswalt, a three-time All-Star, has expressed interest in returning to Colorado next season and believes he will be healthy and effective. Oswalt was 0-4 in four starts with a 7.56 ERA before the injury.
"I actually feel pretty good," Oswalt said. "I'll have to get out there and pitch to know for sure, but my arm feels great. It felt great the other night in Grand Junction. The thing is it wasn't a pitcher-type injury; you don't see too many pitchers have a hamstring problem from pitching. It was a freak play [covering home plate on a wild pitch].
"If I was having chronic back issues or arm issues, I'd probably think differently. But right now the body feels great. I'll see where I'm at after these starts, but I believe I'll feel good enough to play next year."
By working Oswalt into the rotation, the Rockies can limit the workload of Bettis, 24, who missed last season because of a shoulder injury that didn't require surgery. Bettis has thrown a combined 97 2/3 innings this season between the Majors and Double-A Tulsa.
The Rockies also activated left-hander Drew Pomeranz, who hasn't pitched since July 21 because of left biceps tendinitis. However, Weiss said Pomeranz is not ready for game action.
Thomas Harding is a reporter for MLB.com. Read his blog, Hardball in the Rockies, and follow him on Twitter @harding_at_mlb. This story was not subject to the approval of Major League Baseball or its clubs.