Diekman making strong case for 'pen role in '14
Diekman making strong case for 'pen role in '14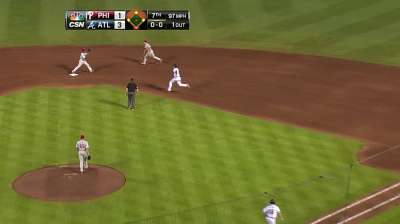 PHILADELPHIA -- Phillies left-hander Jake Diekman has been on a nice roll, making himself a front-runner for a bullpen job next season.
He is 1-1 with a 0.82 ERA in 11 appearances since Aug. 10. He has allowed five hits, one earned run, two walks and struck out 16 in 11 innings. Opponents have hit just .143 against him. And he has been equally as successful against left-handers (3-for-18 with one walk and 10 strikeouts) as vs. right-handers (2-for-17) with one walk and six strikeouts) in that span.
"Confidence," pitching coach Rich Dubee said. "You have to play this game confidently and committed to what you're doing. I think he watched some Chris Sale tape of where to get his hands in his delivery. Try to get that done last year, didn't get it done, got it done this year.
"He's in a spot with his delivery this year where he's very comfortable. It feels repeatable, it feels effortless, and again, the confidence allows you to do that. It allows him to play the game stress-free. And that's important."
Todd Zolecki is a reporter for MLB.com. This story was not subject to the approval of Major League Baseball or its clubs.