Kazmir fans 12 Mets as Tribe creeps closer in chase
Kazmir fans 12 Mets as Tribe creeps closer in chase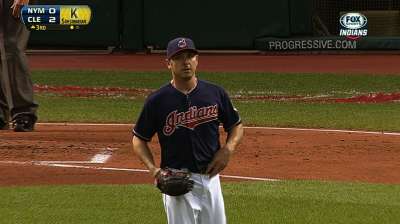 CLEVELAND -- More than a decade after Scott Kazmir was drafted by the Mets, there remains a fascination over the lefty in New York. He was the can't-miss prospect that was traded away before even getting a taste of the big league stage in Queens.
Kazmir's career took a circuitous course to Friday night in Cleveland, where he took down the club that had such high hopes for him so long ago in an 8-1 victory for the Indians. The baby face is gone, but Kazmir's left arm seems to have regained the life it featured back in his days as a teenage Mets farmhand.
"I think he was a little jazzed up," Indians manager Terry Francona said. "Whatever they need to use as motivation, we'll take it."
These young Mets -- clearly using these final few weeks to evaluate young talent with next season in mind -- looked overwhelmingly overmatched by Kazmir at Progressive Field. The lefty sliced his way through New York's lineup, striking out the side three times and ending his evening with a dozen strikeouts in just six innings of work.
It was an overpowering display that helped Cleveland (75-65) pull within two games of the American League's second Wild Card spot. Kazmir insisted that it was the Tribe's postseason position that was at the forefront of his mind -- not the first-time meeting with the Mets.
After all, a lot has changed since New York took Kazmir with the 15th overall pick in the 2002 First-Year Player Draft.
"That's the main thing," Kazmir said. "Front office, players, everyone, it's all new. I think it'd be a little more significant if it was a lot of guys that I played with, going back to that. But it wasn't."
Kazmir fell one strikeout shy of his career high of 13 -- set on Aug. 25, 2007. Back then, the left-hander was making a name for himself as an up-and-coming ace for the Rays, who acquired Kazmir from the Mets in a July 30, 2004, trade for Victor Zambrano and Bartolome Fortunato. Mets fans do not need to be reminded about how that deal worked out in the end.
Of course, Kazmir's rapid rise to the top of Tampa Bay's rotation was soon followed by a drastic nosedive out of baseball. Injury woes led to mechanical issues, which created problems with command and diminished velocity. By 2009, Kazmir was traded by the Rays to the Angels. By 2011, Kazmir was released and searching for a way to get back to the big leagues.
The lefty initiated his comeback with the Sugar Land Skeeters in independent ball last summer.
"I'm his No. 1 fan," Indians first baseman Nick Swisher said. "To have a guy like that who was pretty much playing catch in his backyard last year, to going out throwing 95, 96 [mph] and really just dominating games, man, I could not be more happy that we have him over here."
This past winter, Cleveland took a chance on the lefty with a Minor League contract, and put him in the Opening Day rotation. Multiple times this season, including in the days leading up to Kazmir's start against the Mets, New York media outlets have profiled his rise, fall and return.
The fascination will surely continue in the wake of Friday night, when Kazmir collected his eighth win of the year and spun one of the more amazing outings in recent memory for an Indians starter.
"Best I've ever seen him pitch," Mets manager Terry Collins said. "And I saw him pitch in Tampa for a while."
The Indians' offense did its part by providing Kazmir with three runs (two earned) against Mets rookie right-hander Zack Wheeler in his five innings. Carlos Santana and Michael Bourn each contributed sacrifice flies to push the Tribe ahead, 2-0, by the second inning. Santana later added an RBI single in the fifth, and Lonnie Chisenhall chipped in an RBI double off reliever Gonzalez Germen in the sixth.
Swisher put the game away with a grand slam off reliever Tim Byrdak in the eighth.
"That's a tight game," said Swisher, who has 16 home runs this season. "In a situation like that, all I'm really trying to do is get one of those four in. I was lucky to get the four. I'll take it."
That was plenty to help Cleveland and Kazmir to the win column.
Kazmir appeared to get stronger as the night wore on, needing only 11 pitches to turn in three straight strikeouts in his sixth and final inning. It was only after his exit that New York (63-76) found a way to break through. In the seventh, Justin Turner lifted a 1-0 offering from Cleveland reliever Cody Allen to deep center field for a home run, trimming the Tribe's lead to 4-1.
By that time, it was already too late.
Kazmir's line -- six innings, four hits, no runs, no walks, 12 strikeouts -- was fatal for the Mets.
"Getting 12 strikeouts, that's the most I've got in a long time," Kazmir said with a smile. "Location-wise, and especially just getting ahead in every count, I think that was an important part. I was able to expand the zone after that and just get some quick outs."
Kazmir became the first Cleveland starter to notch at least 12 strikeouts since 2009 (Justin Masterson) and the first Tribe left-hander to accomplish the feat since '07 (CC Sabathia). Kazmir joined Sam McDowell as the only Indians pitchers since 1916 to pile up at least 12 strikeouts in no more than six innings pitched.
Prior to Kazmir on Friday night, the last Tribe left-hander to collect at least a dozen strikeouts with no walks in an outing was Greg Swindell in 1991. Luis Tiant (1968) was the last Cleveland pitcher to log at least six shutout innings with at least 12 strikeouts and no walks.
Kazmir did allow himself to admit that -- once upon a time -- being traded by the Mets hurt.
"At the time, it did," he said. "But that was a long time ago."
Jordan Bastian is a reporter for MLB.com. Read his blog, Major League Bastian, and follow him on Twitter @MLBastian. This story was not subject to the approval of Major League Baseball or its clubs.