Daley makes Yankees debut after promotion
Daley makes Yankees debut after promotion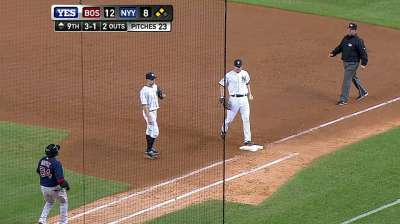 NEW YORK -- Matt Daley was in Hoboken, N.J., on Friday when he got the call. A few hours later -- around 6 p.m. -- the Queens native was at Yankee Stadium, stretching and throwing in the Yankees' bullpen.
The Yankees purchased the right-handed pitcher's contract from Triple-A Scranton/Wilkes-Barre and added him to their active roster on Friday, and he was in the game to pitch the top of the ninth inning later that night against the Red Sox.
Daley threw one scoreless inning in the Yankees' 12-8 loss to the Red Sox -- he was the only New York reliever who didn't allow a run in the game -- giving up one hit while striking out two on 24 pitches.
"It's pretty amazing," Daley said after the game. "My whole family, my wife's whole family are Yankees fans, so to get to pitch in this stadium, I think, means a little more than any other stadium, that's for sure."
Daley last pitched in the Majors in 2011, appearing in seven games and compiling a 10.50 ERA with the Rockies. For his career, he's 1-2 with a 4.71 ERA over 80 1/3 innings.
The Yankees signed Daley to a Minor League contract on Feb. 8, 2012, but he didn't pitch at all that season while recovering from right rotator cuff surgery performed in August, 2011. The 31-year-old went 5-3 with a 2.03 ERA as a reliever over 44 games between three levels of the Yankees' organization this year.
"I was actually a Mets fan growing up, but I think once I got into pro ball, I kind of understood how amazing this organization was," Daley said. "When the opportunity arose after the 2011 season, I was pretty pumped up to do that."
To make room for Daley on the 40-man roster, the Yankees reinstated infielder Corban Joseph from the Minor League seven-day disabled list, recalled him from Triple-A Scranton/Wilkes-Barre and placed him on the 60-day Major League DL. Joseph is recovering from right shoulder surgery.
Josh Vitale is an associate reporter for MLB.com. This story was not subject to the approval of Major League Baseball or its clubs.