Fernandez stifles Nationals with scoreless gem
Fernandez stifles Nationals with scoreless gem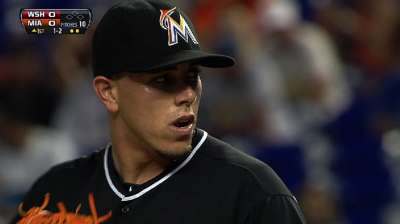 MIAMI -- At home, Jose Fernandez has been unbeatable all season. On Friday night, the 21-year-old sensation was almost unhittable.
Making a statement that he is a serious National League Rookie of the Year candidate, Fernandez simply dominated the Nationals over seven one-hit innings in the Marlins' 7-0 victory over the Nationals at Marlins Park.
Fernandez put on a show, flirting with a no-hitter while striking out nine. The lone hit the All-Star allowed came with one out in the sixth inning, on Zach Walters' pinch-hit infield single.
"Jose has been so great for our ballclub," Marlins manager Mike Redmond said. "He's brought an excitement and energy to this ballclub that we all needed. For a kid who came in not knowing when he was going to make the team or be part of the team, he has created that energy and that excitement down here in Miami that we all needed."
Now 8-0 with a 1.19 ERA in 14 home starts, Fernandez is the only rookie since 1921 with a minimum of 12 starts to be undefeated at home.
The Marlins' first-round pick in 2011, Fernandez made the progression from Class A ball to the big leagues in two years. He's immediately established himself as an ace, and a force.
On a Miami team with a 53-86 overall record, Fernandez is 11-6 with a 2.23 ERA. Not only is he an NL Rookie of the Year Award contender, he is worthy of NL Cy Young Award recognition.
Already this year, he has had a 14-strikeout performance against the Indians, he has beaten the Dodgers twice and he has set a Miami rookie strikeout record, which is now at 182 in 165 2/3 innings.
"He's definitely made a case," Redmond said. "He's put himself on the map as one of the best pitchers in this game. I'm very fortunate I get to watch him pitch every fifth day. I wish I could catch him."
Fernandez has had so many outstanding outings, but of all of them, he admits Friday's may have been his best.
"I think it was up there, stuff-wise," Fernandez said. "I think it was up there. I think I could have made some better pitches at times."
The Marlins rocked Dan Haren for five runs in three innings. Logan Morrison provided the big blast, a two-run homer estimated at 484 feet, the longest ever at Marlins Park. According to the Home Run Tracker website, the longest shot ever at the second-year stadium was 476 feet, by San Francisco's Hunter Pence on Aug. 18.
For insurance, Giancarlo Stanton crushed a solo homer in the eighth inning.
Fernandez -- whose night ended after 94 pitches -- Chad Qualls and Brad Hand combined on the two-hitter, Miami's 10th shutout of the season.
The Marlins have four no-hitters in their history. Fernandez was seeking to reach the milestone seven years to the day after Anibal Sanchez put his name in the record books against the D-backs at Sun Life Stadium.
The right-hander is expected to be shut down after his next start, which is set for Wednesday at home against the Braves.
Fernandez continues to impress the entire baseball world.
Nationals manager Davey Johnson said Fernandez turned in the best performance by an opposing starter against his club this year.
"He really used all his pitches," Johnson said. "He was really attacking everybody by throwing strikes. That's key, and good location, good fastball, good breaking stuff. Except for maybe once or twice, he wasn't behind in the count."
Fernandez was perfect through 4 2/3 innings before Adam LaRoche drew a walk with a full count. The Nationals could do no damage as Wilson Ramos lifted a routine fly ball to right to end the inning.
As the no-hit innings piled up, Miami teammates stayed away from Fernandez. The only one to say anything was third baseman Placido Polanco.
"In the fourth inning, Polanco walked by and said, 'Let's get that no-hitter,' " Fernandez said. "I started laughing."
Leading off the sixth inning, Nationals second baseman Steve Lombardozzi grounded out sharply to second base. Walters stepped up, making his MLB debut.
Unaware of Walters, Fernandez turned to the giant scoreboard to check on the rookie's stats.
"The funny thing is, I saw a pinch-hitter, so I looked back to see how he was hitting. I saw all zeros. All zeros on the board," Fernandez said. "I was like, 'It's this guy's first time in the big leagues.' So, this movie came to my mind, 'Perfect Game.' ... I was like, 'Oooff.' I was trying to make a good pitch. What can you do about it?"
With the count at 2-2, Fernandez threw the left-handed-hitting Walters an 81-mph curveball. Barely getting a piece off the end of the bat, Walters delivered a squib single down the third-base line. Having no play at first, Polanco let the ball continue to roll in hopes it would spin foul. But it settled on the infield grass, traveling roughly 75 feet, ending the rookie pitcher's chance at making history.
At first base, Walters looked at Morrison and couldn't help but laugh.
"He didn't say anything. I looked at him, and he was just laughing," Morrison said. "It will be the last time he is 1-for-1 off Jose Fernandez."
Fernandez was able to quickly close the door on the inning when Corey Brown bounced into a double play.
Upset that his no-hit bid was over, Fernandez screamed a few choice words into his glove as he walked towards the dugout.
"When I say something I'm not supposed to say, I say it in English," Fernandez said jokingly to reporters.
"Believe me, that JumboTron is so large that I've learned two things," Redmond said. "A pitcher knows how many hits he's given up and how hard he's throwing," Redmond said. "Those guys never miss that radar gun. They know exactly where they're at.
"That's just part of the game. You've got a young kid. That was his first at-bat. He got his first Major League hit and broke up a no-hitter. I'm sure he will remember that. I'm sure Jose will remember that the next time he faces him as well."
Joe Frisaro is a reporter for MLB.com. He writes a blog, called The Fish Pond. Follow him on Twitter @JoeFrisaro. This story was not subject to the approval of Major League Baseball or its clubs.