Haren roughed up, Nats shut down in series opener
Haren roughed up, Nats shut down in series opener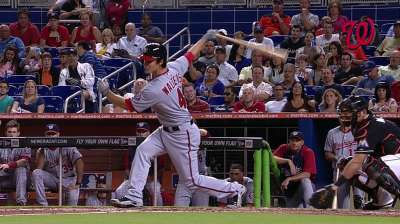 MIAMI -- Hoping to keep pace with the Reds for the final National League Wild Card spot, the Nationals ran into a pitcher who also happens to be running out of time.
Right-hander Dan Haren struggled in his second consecutive short outing, while Rookie of the Year candidate Jose Fernandez flirted with a no-hitter in his second-to-last outing in Washington's 7-0 loss to the Marlins Friday night in front of 25,118 at Marlins Park.
With Cincinnati's 3-2 win over the Dodgers, Washington now trails the Reds by eight games. On the second leg of a crucial 10-game road trip, the Nationals lost for the fourth time in their past 10 contests.
"It's not really looking good, that's for sure," right fielder Jayson Werth said. "We're in a spot now where we really can't afford another loss. It puts you in a bad place. Keep grinding. It's not over until it's over."
Haren (8-13) surrendered three first-inning runs after allowing the first four batters to reach base. Chris Coghlan doubled to left and Donovan Solano walked before Christian Yelich singled up the middle to load the bases.
Giancarlo Stanton sent the next pitch into center for a single to drive in a pair of runs. After Logan Morrison struck out swinging, Placido Polanco flied out to center to drive in Yelich.
The Marlins extended their lead to 5-0 in the third on Morrison's sixth home run of the season into the upper deck in center field.
It came on the first pitch from Haren, who has given up a National League-high 26 dingers on the season. The home run was estimated at 484 feet, a Marlins Park record.
Haren, who threw 58 pitches in his three innings, jammed his right ring finger on a comebacker from Fernandez in the second when he tried to put his hand out to stop it.
Over his past two outings, the 11-year veteran has given up 12 runs in just 5 2/3 innings.
"[My] stuff was average, and putting us in a three-nothing hole against a pitcher like that is a downer for the whole team," said Haren, who allowed five runs on six hits. "I didn't obviously start out the ideal way."
Washington's first baserunner against Fernandez (11-6), who is on an innings limit that will provide him with one more start next Wednesday, didn't come until two outs in the fifth, when Adam LaRoche walked after falling behind in the count, 0-2.
The two-time reigning NL Rookie of the Month is 1-0 with a 0.69 ERA in two starts against the Nationals. He improved to 8-0 with a 1.19 ERA at home.
Pinch-hitter Zach Walters, making his Major League debut, snapped Fernandez's no-hit bid with a cue shot that stayed fair down the third-base line on a 2-2 pitch with one out in the sixth. Expecting fastball, Walters instead got an 81-mph curveball from the 21-year-old rookie.
The Nationals have still not been no-hit since the team moved from Montreal in 2005. The Expos fell victim to the Yankees' David Cone on July 18, 1999.
"It's a tough way to lose it, but it's fine," said Fernandez, who hurled seven innings of one-hit ball with nine strikeouts. "The funny thing is, I saw a pinch-hitter, so I looked back to see how he was hitting.
"I saw all zeros. All zeros on the board. I was like, 'It's this guy's first time in the big leagues.' So, this movie came to my mind, 'Perfect Game.' … I was like, 'Oh.' I was trying to make a good pitch. What can you do about it?"
LaRoche's leadoff infield single in the eighth against right-hander Chad Qualls was the only other hit for the Nationals.
Fernandez went 2-for-3 with a pair of singles, finishing with as many as Washington.
Miami added a run on Yelich's fielder's-choice groundout in the sixth off left-hander Xavier Cedeno and another on Stanton's solo homer -- his 19th -- to left-center in the eighth off left-hander Ian Krol.
Stanton now has 19 RBIs in his past 18 games against the Nationals.
It was the first shutout of Washington since July 26 in the first game of a doubleheader against the Mets, and the ninth on the season. The loss also snapped the Nats' four-game win streak over the Marlins.
"We've got to win," Nationals manager Davey Johnson said. "We just need to win ballgames. We can't afford to keep losing, period. We need to win."
Christina De Nicola is a contributor to MLB.com. This story was not subject to the approval of Major League Baseball or its clubs.