Fast and furious: Red Sox stun rival Yankees
Fast and furious: Red Sox stun rival Yankees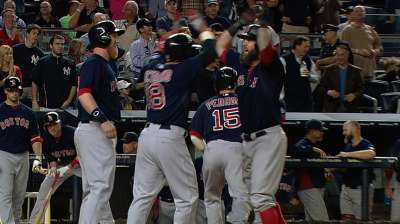 NEW YORK -- First, the Red Sox roared back for a furious comeback on Friday night against the Yankees. Then, they simply stomped on their rivals.
Clearly in the midst of their best stretch of baseball this season, the Sox took it up even another notch in this thrilling 12-8 victory.
Boston trailed, 8-3, after six, but Mike Napoli lofted a game-tying grand slam with two outs in the seventh against Yankees lefty reliever Boone Logan.
"We were down five runs in the seventh inning," Napoli said. "To come back on this stage, and they're fighting [for a postseason berth], it's a big series. Every game for us is big for us. To come back to tie the game, it was a big moment in the game."
For the second night in a row, it was Shane Victorino who came up with the hit that broke the Yankees' spirit in the late innings. This time, he clubbed a two-run homer to left in the eighth to snap an 8-8 tie.
Victorino also declined to speak to the media for the second night in a row, but there was plenty of talk about his latest big hit. Nine of Victorino's 14 homers have come since Aug. 3. All of them have been right-handed, as he's basically abandoned switch-hitting of late.
"Vic once again from the right-handed side of the plate against right-handed pitching, just an outstanding job," said manager John Farrell.
The Red Sox are scorching hot, with 11 wins in their last 13 games and 12 in the last 15. They hold a 7 1/2-game lead over the Rays in the American League East, and Boston's magic number to win the division is down to 14.
It isn't just how much they are winning. It is the way they are winning.
"At no point in the game was I like, 'We're out of this,' because I've seen us put up six or seven runs in an inning," said third baseman Will Middlebrooks, who homered for the third straight night. "It probably surprised a lot of people, but it didn't surprise us. We never give up."
Felix Doubront struggled mightily for Boston, giving up three hits, six runs and six walks over 3 2/3 innings.
"Mechanically, it's a little bit off," said Doubront. "I don't know. I got no words for what happened today. Just that I wasn't able to repeat the fastball. I have to figure out something."
With Clay Buchholz set to return next week, there's at least a chance Doubront could come out of the rotation, even if only temporarily.
"We've got the off-day coming up, obviously Clay's pending return. We've got some things to work through here and kind of see what's best for us and Felix as well," said Farrell.
But the subpar start by Doubront wound up being nothing more than an inconvenience for the visitors on Friday.
David Ross started the five-run rally in the seventh with a leadoff single. With one out, Victorino laced a single. Pinch-hitter Mike Carp walked to load the bases. An infield hit by Dustin Pedroia drew Boston a run closer.
Yankees manager Joe Girardi called on Logan to face David Ortiz. Initially that worked, as Big Papi struck out for out No. 2.
But Napoli was a different story. The right-handed slugger continued his season-long torment of the Yankees by getting just enough of a 3-2 pitch for a game-tying grand slam to right. The ball hit the very top of the wall and bounced into the seats, out of the reach of a leaping Ichiro Suzuki.
Did Napoli think he got enough of it to get it out of the ballpark?
"I barreled it," Napoli said. "I hit it high. At first, yeah, and then I saw Ichiro timing his jump and it kind of made me nervous. I just got enough."
It was the second grand slam by Napoli at Yankee Stadium on the season. His three grand slams in 2013 leave him one shy of Babe Ruth (four in 1919) for the club record.
"That's pretty cool," said Napoli. "Yeah, guys seem to be on base all the time when I'm up. I've had a lot of opportunities with the bases loaded this year. I'm just trying to drive the ball and good things have been happening."
After rookie Brandon Workman mowed through the Yankees with a dominant bottom of the seventh, the Boston bats went back to work in the eighth.
On a night the Yankees were without top two relievers David Robertson and Mariano Rivera, Preston Claiborne was entrusted to keep the game tied. But Middlebrooks drilled a one-out single and Victorino, after falling behind 0-2, clubbed a 1-2 slider over the wall in left.
Who could have predicted that Victorino would go on such a power surge?
"But then again, Shane does a lot of things you don't imagine," said Farrell. "Whether it's getting on base to the extent that he is -- but even when he was switch-hitting, we always felt that this has clearly been the strong side of the plate for him, but to see his performance and production against right-handers, and good right-handers, it's something we didn't anticipate."
Later in that eighth, Daniel Nava drew a bases-loaded walk and Stephen Drew had an RBI single, giving the Red Sox nine unanswered runs.
Over the past three games, the Boston bats have generated 41 runs and 50 hits.
"I think that's our whole lineup," said Napoli. "We're down, we're up, we grind out at-bats no matter what. We've been doing it all year. We never feel like we're out of games and we just go hard all the time."
Ian Browne is a reporter for MLB.com. Read his blog, Brownie Points, and follow him on Twitter @IanMBrowne. This story was not subject to the approval of Major League Baseball or its clubs.