Entrusted with five-run lead, bullpen implodes
Entrusted with five-run lead, bullpen implodes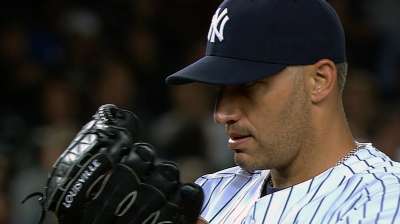 NEW YORK -- The ball soared into the air, a white speck floating against the pitch-black night, and Ichiro Suzuki pursued it comfortably. Then he leapt, realized the ball would carry past his outstretched glove, and it was time for the Yankees to panic.
Boone Logan seemed stunned, raising both hands above his head with a dazed expression, and he wasn't alone. Mike Napoli's game-tying grand slam highlighted nine unanswered Red Sox runs as the Yankees' bullpen completely imploded, flushing a late lead in a 12-8 loss on Friday at Yankee Stadium.
"The short porch we've got isn't very nice sometimes," said Logan, who was unable to clean up a seventh-inning mess left by reliever Phil Hughes. "We're scoring a lot of runs. The starters are giving us their best. It's our job to lock it down."
The loss also had a crushing impact in the standings, as the Yankees slipped to fourth place in the American League East and are 10 games back of the Red Sox.
Shane Victorino connected for a go-ahead, two-run shot off Preston Claiborne in the eighth, giving the Red Sox their first lead of the evening. New York's relievers have been a strength all year, but not the last two nights, as they've allowed 15 runs, 21 hits and seven walks in nine innings of Yankees-Sox baseball.
Not only did the Yankees absorb one of their most crushing defeats of the season, but it hurt in a literal sense; Logan is heading for an MRI tube after complaining of discomfort near his left elbow, and David Robertson was unavailable to pitch after an MRI showed inflammation in his right shoulder.
"We've been dealing with this all year long," manager Joe Girardi said. "It's a chance for other guys to step up, and they're going to get an opportunity."
Girardi knew he was going to have to be creative with the names of both Robertson and Mariano Rivera (three straight appearances) written in red ink on his lineup card, but he could not have imagined how quickly his choices could spoil six solid innings of work from Andy Pettitte.
Boston sent nine men to the plate in the seventh, erasing a five-run deficit. Hughes was almost completely ineffective in his first regular-season relief appearance since September 2011, allowing four of the five batters he faced to reach base before leaving in favor of Logan.
"It was just a terrible inning," Hughes said. "And this time of year, terrible innings cost you big time."
After an out, Logan worked the count full to Napoli, who instantly knew that he'd gotten enough of the drive that struck the top of the right-field wall.
"It's pretty shallow to right field," Napoli said. "I've been able to drive balls to right field throughout my career. I'm definitely comfortable hitting here, knowing I can hit something in the air that way and it will go out."
Logan faced one more batter, nearly getting undressed by a Daniel Nava laser, before exiting to a chorus of boos.
"It's been a long year," Logan said. "I've been going through soreness all year long, starting in the spring. I just felt a little tightness kick in two or three pitches in to Napoli. I wasn't going to do anything about it at the time; I was just trying to finish the at-bat and try to get out of that inning, but that didn't happen."
The Sox pulled away with four eighth-inning runs. Claiborne followed a terrible outing in Thursday's series opener with another bad one, and ineffective Joba Chamberlain then issued a bases-loaded walk to Nava and allowed Stephen Drew's RBI single.
There may have been no one more disappointed in the outcome than Pettitte, who had left in line for the win after completing a 100-pitch workload of three-run ball. Pettitte struck out eight and permitted five hits, walking three.
"I felt good. I hate it," Pettitte said. "I wish I'd gone a little bit deeper in the game, but all my pitches were working. It was a game where you feel maybe like you could've got a little bit deeper."
The Yankees built an early lead for Pettitte by getting to Red Sox starter Felix Doubront for six runs on just three hits in 3 2/3 innings, taking advantage of Doubront's six walks.
Alfonso Soriano hit a two-run homer, his 30th of the season and 13th with the Yankees, off Doubront in the first inning. Eduardo Nunez added a run-scoring triple in the second, and Brett Gardner legged out his second two-run triple of the series in the fourth.
Vernon Wells and Mark Reynolds had run-scoring hits off reliever Rubby De La Rosa in the fifth, but the Yanks' bats called it a night from then on.
Eight runs would've been an unthinkable luxury for the earlier version of the 2013 Yanks, who centered their game plan around timely hits and a lock-down bullpen. These Bombers have restored their thump, but suddenly leaks have sprung in the bullpen -- and at a most inopportune time.
"I think if we keep playing the way we are, we're going to be fine. I really do," Pettitte said. "I love the fight in us -- last night, the way we battled to come back. Unfortunately we just weren't able to hold it tonight."
Bryan Hoch is a reporter for MLB.com. Follow him on Twitter @bryanhoch and read his MLBlog, Bombers Beat. This story was not subject to the approval of Major League Baseball or its clubs.