Late rally not enough after Lohse generous early
Late rally not enough after Lohse generous early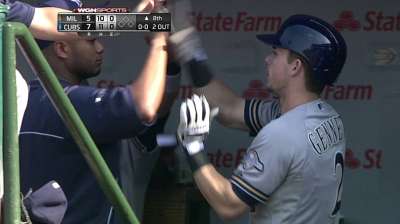 CHICAGO -- Kyle Lohse was one out away from escaping the first inning having given up one run, but instead he walked off the mound after the opening frame with his team down five.
The right-hander surrendered a first-inning grand slam to Junior Lake, and despite a late rally, the Brewers fell to the Cubs, 8-5, in the opener of a weekend series at Wrigley Field on Friday afternoon.
With one out in the first, Lohse gave up three consecutive singles, resulting in the first Cubs run. Following a walk to Ryan Sweeney that loaded the bases, the right-hander got Donnie Murphy to pop out to short, but he left a 1-0 slider out over the plate to Lake, who drove it over the fence in left-center for his first career grand slam to make it 5-0.
"It was tough," Lohse said. "I couldn't get it going. It seemed like the first three or four hits were all on hanging sliders that I just didn't finish. It was a pretty big hole to put us in."
Lohse added that it was frustrating to know that he was close to getting out of the inning with minimal damage.
"[The slider to Lake] just spun right there," he said. "The frustrating thing was, I felt like, first and third, I was one pitch away a couple of times and I just didn't make the pitch. It happens. It was frustrating, but it's going to happen from time to time, and unfortunately, it cost us the game early."
"You make one good pitch there and you come out of it with just one run [allowed]," manager Ron Roenicke said. "It's a huge difference."
Lohse yielded a two-run single to his counterpart, Chris Rusin, in the third that plated Chicago's sixth and seventh runs. The Cubs would tack on an unearned run in the eighth on a throwing error by Jean Segura.
"I guess that kind of salvages the day," Rusin said of his two RBIs. "I was wild today and had a tough time trying to find a rhythm, but the bullpen did a great job."
The Brewers got on the board in the second on a sacrifice fly by Norichika Aoki and scored another run in the third on Aramis Ramirez's home run to the back of the bleachers in left. It was Ramirez's 10th homer of the season and his 1,000th career run scored.
With two outs in the eighth, pinch-hitter Scooter Gennett hit a three-run homer to right field off reliever Pedro Strop to cut the deficit to two. It was Gennett's sixth homer of the season and his first career pinch-hit shot.
"I thought offensively it was OK," Roenicke said. "We made a push to get back in the game, which I thought we did with Scooter's home run. But to recover from seven runs, it's tough to get back in it."
The seven runs given up by Lohse are a season high. He allowed 11 hits, walked one and struck out three in five innings. It was the second start in his last three in which he yielded at least five runs and 11 hits.
Prior to Friday, Lohse was 1-0 with a 2.08 ERA in two starts against Chicago this season. He had also gone 2-1 with a 3.48 ERA in six career starts at Wrigley Field.
He is now 3-6 with a 4.15 ERA in 15 starts on the road this season.
"[Lohse] missed his location a lot," Roenicke said. "When he missed location, [the Cubs] didn't miss the pitch. He didn't make too many quality pitches in the first inning. But after that he was a little bit better. … [His] last two innings were pretty good. … I don't know why he came out and was struggling there with his command, but we need to get him back on track again."
Right-hander Jimmy Nelson made his Major League debut in relief of Lohse and tossed two scoreless innings, retiring the Cubs in order in the sixth and seventh.
"The first inning [from Nelson] I really liked," Roenicke said. "The velocity was good and the location was really good, down in the zone. … Then the next inning he was up in the zone, and we were fortunate they hit some balls hard at us."
"I was more anxious than nervous," Nelson said. "When I got out there, I just tried to get on the rubber before I could realize the anxiousness. … My offspeed stuff wasn't very good today, but I had the fastball and mixed in a few offspeed pitches enough to keep them off balance a little bit."
The Brewers are now 18-60 on the season in games in which opponents score first. They also lost to the Cubs for only the fifth time in 13 contests this season.
Manny Randhawa is an associate reporter for MLB.com. This story was not subject to the approval of Major League Baseball or its clubs.