Tigers march past Royals with 26-hit parade
Tigers march past Royals with 26-hit parade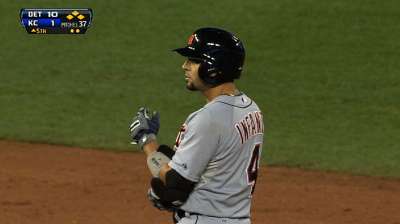 KANSAS CITY -- The Tigers did to the Royals on Friday night what the Red Sox had done to the Tigers on Wednesday.
This time, Detroit was on the positive side of a 16-2 blowout and it came in an unlikely setting against a Kansas City club that started the night ranked No. 1 in the American League in ERA (3.46) and ace James Shields on the mound.
Go figure.
Just two days after taking a 20-4 drubbing at Fenway Park, the Tigers flexed their offensive muscles by batting around in both the second and fourth innings.
"It was just one of those freak games," Tigers manager Jim Leyland said. "James just didn't have it tonight and we were able to take advantage."
Andy Dirks and Omar Infante, who have lockers side-by-side in the Kauffman Stadium visitors' clubhouse, each went 5-for-5 and established career highs for hits. Infante also had a career-high six RBIs.
Shields came into the game with a 1.53 ERA over his last five starts. He got through the first with little problem, but then the Tigers began spraying hits all over the ballpark. Shields wound up allowing 14 hits and 10 earned runs over 3 2/3 innings.
"That's a good hitting team over there and I didn't do my job tonight," Shields said. "Obviously, we've got to move forward but that was a terrible job by me." The Tigers didn't let up when Kansas City went to the bullpen. The 26 hits were their most since May 27, 2004, against the Royals.
"Whether you win by 20 or by one it counts the same," Dirks said. "We've got to come out [Saturday] and try to do the same thing."
Right-hander Anibal Sanchez was the recipient of the lavish run support. His biggest problem was staying loose as the Tigers batted around in a pair of five-run innings.
Sanchez went seven innings, allowing just one run on seven hits.
"You can talk about the hits until the cows come home, but Sanchez shut their offense down and that's the key to the game," Leyland said.
The Tigers (82-59) maintained their 6 1/2-game lead over Cleveland in the American League Central, while reducing their magic number to 16 and pushing the third-place Royals (73-68) nine games back.
The Royals actually jumped on top in the first against Sanchez on a Billy Butler RBI single. But from that point on, it was all Tigers.
With one out in the second, five consecutive Tiger hitters reached. Infante contributed an RBI single to tie it and Ramon Santiago's RBI double put Detroit on top. A two-run double by Austin Jackson and an RBI single by Miguel Cabrera finished the five-run rally.
Detroit put up another five-spot in the fourth and Infante added a three-run double in the fifth.
"They're a smart team," Royals manager Ned Yost said. "It looked to me like they were really sitting soft and when they got it, they didn't miss it." Dirks, who had a walk to go with his five hits, couldn't have picked a better place for a career night at the plate. The Tigers' left fielder lives in Burrton, Kan., and his parents were able to make the short trip to see it.
"When I hit it, it went in the holes," Dirks said. "You have nights like that and you have nights where it goes the other way, too."
Sanchez lowered his ERA to 2.61 and picked up his 13th win, matching a career high. Since he was facing the Royals for the third time, Sanchez felt the need to change his pitching patterns and he worked hard to keep an aggressive running game under control early. Sanchez picked off Emilio Bonifacio in the third inning.
"I felt strong today," Sanchez said. "I knew I had to make adjustments because this [Royals] team was coming in pretty hot. My team gave me a lot of runs today and I was able to do my job." The Tigers feel they're riding the roller coaster after a 16-run loss was followed by a 14-run win.
"They don't happen very often, but they do happen," Leyland said.
Robert Falkoff is a contributor to MLB.com. This story was not subject to the approval of Major League Baseball or its clubs.