Soriano's baserunning gaffe proves costly
Soriano's baserunning gaffe proves costly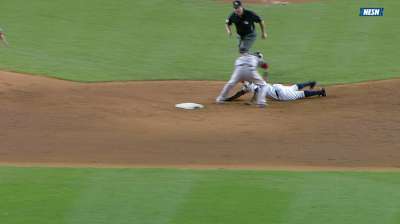 NEW YORK -- If you're going to steal a base in the ninth inning of a tie game, you can't get thrown out.
That's what manager Joe Girardi said after the Yankees' 9-8 loss to the Red Sox on Thursday night, and that's exactly what Alfonso Soriano did do in the ninth inning.
Representing the winning run and attempting to steal third with one out, Soriano was picked off by Boston reliever Craig Breslow and tagged out in a rundown.
"I just want to try to get on third with less than two outs," Soriano said. "Make it easy on the hitter, because you know it's a very important game for us."
Soriano walked with one out in the inning, and it looked as though he was picked off attempting to steal second. But first baseman Daniel Nava bobbled the throw from Breslow, allowing the Yankees' left fielder to reach second.
Breslow attempted to pick off Soriano once at second and didn't get him. But he caught him running on the second attempt to get the second out of the inning, and designated hitter Curtis Granderson struck out to end the frame.
"This is my game. Be aggressive on the bases, especially in the ninth inning," Soriano said. "After I got to second, he picked off one time, and I thought maybe he didn't want to pick [off] twice. And he got me on the second move."
Prior to that pick off, the Yankees had stolen a season-high six bases in the game, marking their highest total in a single game since Sept. 19, 2012, when they stole four against the Blue Jays. They also tied a franchise record, as six different players each stole one base for the first time since May 31, 1916.
Despite the thievery on the base paths, the Yankees weren't able to steal a win from the Red Sox on Thursday.
"It's a little tough, but we don't have to put our heads down," Soriano said. "There's three more games left. I hope tomorrow we come with the same energy and the same attitude, try to get tomorrow."
Bryan Hoch is a reporter for MLB.com. Follow him on Twitter @bryanhoch and read his MLBlog, Bombers Beat. Josh Vitale is an associate reporter for MLB.com. This story was not subject to the approval of Major League Baseball or its clubs.