Slide through West continues behind shaky Price
Slide through West continues behind shaky Price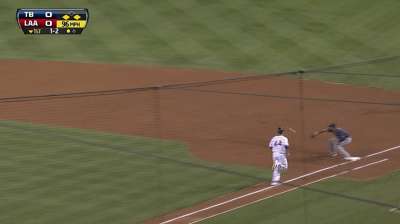 ANAHEIM -- Perched on the brink of claiming their four-game series with the Angels, the Rays came up empty behind staff ace David Price in a 6-2 loss Thursday night at Angel Stadium.
The Rays (77-62) are now 6 1/2 games behind the first-place Red Sox in the American League East after the Red Sox took a 9-8 come-from-behind win against the Yankees. However, the Red Sox win also allowed the Rays to maintain their 2 1/2 game edge on the Yankees for the second AL Wild Card spot.
Tampa Bay is 2-5 on its current 10-game road trip and 3-7 since beginning a stretch of 13 consecutive games against AL West teams. Since July 31, the Rays are 13-19.
Price spent 47 days on the disabled list with a left triceps strain. In the 12 starts since his July 2 return, he had put together a 7-2 run with a 2.12 ERA before Thursday night's game.
Price escaped a first-and-third, no-outs jam in the first inning with a strikeout and a double-play, but the Angels got busy in the second against the 2012 AL Cy Young Award winner.
Josh Hamilton singled to start the Angels' second. Luis Jimenez and Grant Green also singled to load the bases with one out. Collin Cowgill then cleared them with a double to left, putting the Angels up, 3-0.
"That's huge," Angels manager Mike Scioscia said of Cowgill's hit. "In the first inning, Price made some pitches to get out of it, and in the second, bases loaded and Collin splits the gap for three runs. That's an important at-bat."
Rays manager Joe Maddon said that Price simply "made some bad pitches at the wrong time."
"The pitch to Cowgill was just an elevated changeup," Maddon said. "That hurt."
The Rays answered in the third, when David DeJesus and Ben Zobrist each singled off Angels starter Jerome Williams. Two outs later, James Loney's two-run double to right cut the lead to 3-2.
Any hopes that the Rays were back in the game were dashed when the Angels again got after Price in the bottom half of the inning. Hamilton and Kole Calhoun had RBI singles, and the Angels minted a third run in the inning when Green grounded into a forceout that scored Jimenez for a 6-2 Angels lead.
"We get back to 3-2 there, we're feeling pretty good about that, then they put another three-spot up there," Maddon said. "And that kind of took the wind out of our sails, because we just haven't been very offensive lately and that made it a lot more difficult."
To Price's credit, even though he took his seventh loss of the season, he managed to pitch through the seventh inning, which saved the bullpen and kept the game within striking distance.
"I felt good," Price said. "Just didn't make pitches there. Made pitches in the first inning, I was able to get out of first and third, nobody out. And didn't do it in the second and the third, they made me pay. That's how it is. You have to make pitches. I didn't do that tonight.
"I got better as the game went on. Eleven hits and a walk through three innings is pretty rough. That's why I came out of the game after seven. I definitely got better as the game went on. I'll be ready in however many days I'm pitching again next."
Price's effort might have kept the team in the game had the Rays shown any semblance of an offense.
"At some point, the offense has to be able to win a game when the other team scores six or seven runs," Maddon said. "We have to be able to do that too. At some point this offense is going to kick it into gear. In the meantime, you have to continue to support it."
Williams held the Rays to two runs on six hits in 6 1/3 innings to pick up his sixth win of the season, but first since June 12.
The Rays have scored just 19 runs in seven games on the road trip, leading to the question of whether the offense is pressing.
"A little bit," said Evan Longoria. "I think it's a common question that's being asked right now, and I think it's being asked because, historically, in September, we've been really good. And I don't think that's going to change. I think we're going to find a way to improve and win games, whether it's ugly like it has been, or comes easy to us. I think we'll find a way to turn it around."
Bill Chastain is a reporter for MLB.com. This story was not subject to the approval of Major League Baseball or its clubs.