Young Angels lead way to split series with Rays
Young Angels lead way to split series with Rays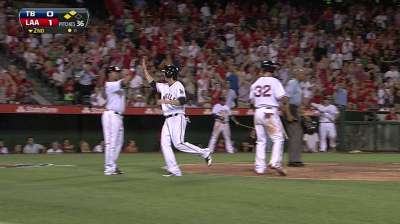 ANAHEIM -- The Angels aren't in the playoff race, but that doesn't make the final weeks of the season meaningless.
With Howie Kendrick and Albert Pujols on the disabled list, and Peter Bourjos' wrist limiting his playing time, the Angels are getting a chance to look toward the future with their younger players in action.
In a 6-2 victory against the Rays on Thursday night at Angel Stadium, manager Mike Scioscia liked what he saw. Luis Jimenez, Kole Calhoun, Grant Green and Collin Cowgill went a combined 5-for-14 with five RBIs, while Jerome Williams allowed two runs on six hits in 6 1/3 innings.
"Felt good," Williams said after the Angels picked up their 10th win in their past 13 games. "Just wanted to do the normal things, just put up zeros and keep the guys in the hunt for a win."
Williams -- a third-year arbitration eligible player -- has made three straight quality starts and has a 2.90 ERA in his last four appearances (three starts), but is not looking at this final stretch as an audition for the Angels or any other potential club for 2014.
Instead, Williams is simply focusing on the present.
"I'm just going out here and doing my job, trying to do my best," Williams said. "Whetever happens, happens. As long as at the end of the day, end of the season, I can look myself in the mirror and say, 'I did OK,' that's fine."
But it was the Angels' offense, a unit that went 5-for 11 with runners in scoring position and scored six runs on 11 hits against Rays ace David Price, that stood out most.
"I felt good," Price said. "Just didn't make pitches there. Made pitches in the first inning, I was able to get out of first and third, nobody out. And didn't do it in the second and the third, they made me pay. That's how it is. You have to make pitches. I didn't do that tonight."
Cowgill entered the game with just four plate appearances since he was recalled on Aug. 24, but did not appear to suffer from a lack of at-bats as he laced a three-run double into the left-center-field gap to open the scoring in the second inning.
"That's huge," Scioscia said. "In the first inning, Price made some pitches to get out of it, and in the second, bases loaded and Collin splits the gap for three runs. That's an important at-bat."
After Mark Trumbo doubled and Josh Hamilton followed with an RBI single in the third, the young Angels took over.
Jimenez -- hitting .333 (10-for-30) in his past eight games -- doubled, Calhoun drove in his 10th run in his past 10 starts with a single, and Green gave the Angels a 6-2 lead on a fielder's choice groundout.
"The bottom of our lineup certainly chipped in," Scioscia said. "Josh and Jimenez had big games, Kole had a big hit for us. Everybody in our lineup had a hit, so the contribution was there -- with runners in scoring position especially. Those contributions were important tonight."
Although the Angels did not get a hit after the third inning, Thursday's game marked the sixth time this season that all nine starters have recorded a hit.
"We kind of struggled for a little bit," Williams said, "but right now we are doing the things we need to do to get wins."
William Boor is an associate reporter for MLB.com. This story was not subject to the approval of Major League Baseball or its clubs.