Gibson tossed after disputed play at home
Gibson tossed after disputed play at home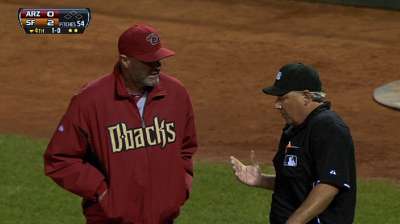 SAN FRANCISCO -- Arizona manager Kirk Gibson was dressed and ready for the San Francisco nightlife after Thursday's game.
That was because he had some extra time to get ready.
Gibson was ejected from the D-backs' game with the San Francisco Giants for arguing a call by home-plate umpire Tom Hallion in the fourth inning.
"I thought he missed it," Gibson said. "He's a good umpire and that's a good crew, but when I was in the dugout a second conversation took place and he did what he had to do."
Luckily, the D-backs came back to win the game, 4-2, leaving Gibson in an upbeat mood.
Gibson was ejected for the third time this season, the first since June 11, and the 12th time in his career.
The argument revolved around a play where Pablo Sandoval was called safe at home after tagging up on Hector Sanchez's sacrifice fly to Gerardo Parra.
Parra's throw seemed to arrive in Miguel Montero's glove just as Sandoval ran into him, apparently dragging his foot across the corner of the plate. Both players fell to the ground and Sandoval, thinking the ball was still alive, tried to dive back toward the plate. Montero dove after him.
Gibson came out to argue the call and then headed back to the dugout. Hallion threw him out while he was in the dugout.
"I don't know if Sandoval was out or safe but that was still pretty impressive," D-backs infielder Willie Bloomquist said.
Parra already threw out one Giants player at home, nailing Brandon Crawford, who was trying to score from second on Brandon Belt's single. Parra also threw out Belt trying to stretch a single. Gibson suggested that Parra could have had four guys thrown out on the bases had calls gone the other way.
Rick Eymer is a contributor to MLB.com. This story was not subject to the approval of Major League Baseball or its clubs.