Posey has small fracture in ring finger
Posey has small fracture in ring finger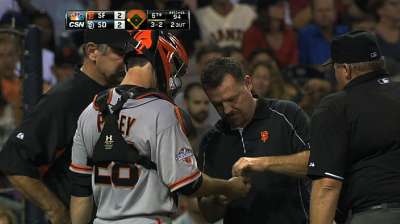 SAN FRANCISCO -- Buster Posey has a slight fracture on the tip of his right ring finger, but the Giants catcher expressed confidence Thursday that he'll soon return to the lineup.
"From what I'm hearing from trainers and doctors, it's something that hopefully in a couple of days, once it calms down, I'll be able to play through it," Posey said after the Giants' 4-2 loss to the Arizona Diamondbacks.
X-rays taken of Posey's finger Thursday confirmed the existence of the fracture, which he sustained during Tuesday night's game at San Diego. Later Thursday, Posey met with the Giants' medical and athletic training staff, including head team orthopedist Ken Akizuki, to discuss the extent of the injury and treatment plans. Posey applied a small plastic bag filled with ice to his finger as he addressed reporters.
"Dr. Akizuki kept saying that it's not displaced or anything, so it'll just correct itself," said Posey, the National League's reigning Most Valuable Player who's batting a team-high .309 with 14 home runs and 69 RBIs in 130 games.
Posey, 26, couldn't estimate how much the injury would hamper him.
"I think throwing will be all right," he said. "I haven't really grabbed a bat yet. So I'll probably test it a little bit [Friday] and see how it feels."
However, Posey indicated that he might be able to cope with the discomfort more easily with an injured right finger, rather than the left.
"I think you can get away a little bit more without using that finger on the bat as much," said Posey, a right-handed batter. "I don't think you can really do that on the bottom hand."
With Posey sidelined, Hector Sanchez caught his second straight complete game Thursday. The Giants also have September callup Johnny Monell to provide catching depth.
In another injury-related development, left-hander Jeremy Affeldt (groin) performed pitchers' fielding practice drills with no complications. Friday, Affeldt is scheduled to throw live batting practice for the second time since being sidelined. Bochy said Affeldt likely will be activated from the disabled list if he passes that test.
Also, right-hander Chad Gaudin (carpal tunnel syndrome) threw on flat ground and on a bullpen mound. Declining to cite a specific time frame for Gaudin's possible return, Bochy noted that returning the 11-year veteran to a starting role could be difficult at this late juncture of the season, since scant time remains for him to build his stamina. Gaudin thus might end the season as he began it: in the bullpen.
Chris Haft is a reporter for MLB.com. This story was not subject to the approval of Major League Baseball or its clubs.