Hellickson's return has Rays' rotation back together
Hellickson's return has Rays' rotation back together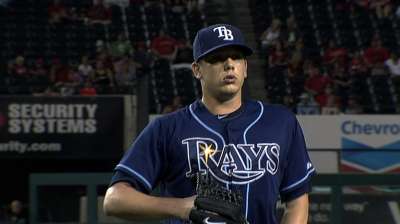 ANAHEIM -- With Jeremy Hellickson making his return to the rotation Wednesday night, the core of the rotation -- formed before Chris Archer's arrival -- was reunited for the first time since mid May.
"Yeah, we've been dealing with different kinds of pitching adversity since then," Rays manager Joe Maddon said. "I think it reflects on our record a little bit. We probably would have had two or three more wins if all the boys had been together and throwing like they could from the beginning. But it happens to everybody."
During the time in between, David Price, Alex Cobb and Matt Moore all were on the disabled list, and Hellickson had a hiatus from the team to rest prior to Wednesday night's win.
Hellickson threw 5 1/3 scoreless innings, allowing four hits with two walks and four strikeouts.
"It's back to normal, it feels like, which is weird, because we've only had like two weeks when we've been all together," Cobb said. "So we were all sitting around in the hotel room the other day and we were saying, 'Finally, we're going to be back together again and things are going to be the way they should have been.'"
Cobb said the group has "gotten really close over the last three years."
"I think we really feed off of each other's energy, like we saw last year," Cobb said. "Everybody was trying to outdo the previous starter's performance, and it was a friendly competition. I think we're going to be able to have that competition going again. That and the September run we're about to go on, that should definitely bring out the best in all of our performances."
Cobb believes the adversity all of them have faced has drawn the group even closer.
"I do," Cobb said. "Obviously every time one of us is coming back -- we pull for each other every outing, but when it's that first time back, everybody's out there treating it like it's a playoff game for that pitcher to come through. We saw it last night with Helly -- when David came back, when Matt came back in this series.
"We've all been really excited to see how that pitcher takes on that challenge. And I definitely think it's given us some added motivation throughout the year. I feel like every time we need a little boost or a punch in the arm, we get a starter coming back that night putting together a good performance."
Bill Chastain is a reporter for MLB.com. This story was not subject to the approval of Major League Baseball or its clubs.