Trumbo understands concerns over on-base percentage
Trumbo understands concerns over on-base percentage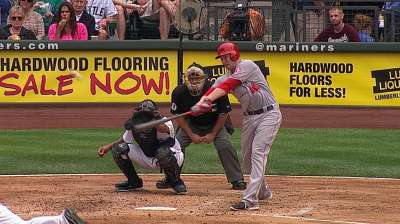 ANAHEIM -- Mark Trumbo -- current slump notwithstanding -- is on his way to a second straight 30-homer, 90-RBI season and, at age 27, ranks among the top 50 in the Majors in slugging percentage since the start of 2011.
He also realizes that won't be good enough to a lot of people.
"At the end of the day, you hit 30 homers and you drive in 80, 90, 100 runs, whatever it is, that's awesome," Trumbo said. "But what's hard as a player, to be quite honest, is when the majority of the times that your name is brought up, it's going to be what you're not doing well -- unless you're a guy like Mike [Trout]. I do quite a few things well, and there are some things I don't do well, which are quite obvious. Unfortunately, you tend to dwell on what you want to get better at. I spend quite a bit of time trying to figure out how I can do certain things better."
For Trumbo, those "certain things" mainly revolve around his on-base percentage.
He set a career-high with a .317 mark last season. Entering Thursday's series finale against the Rays, it was .291 in 2013 -- the same clip he posted in '11 and seventh lowest among American League qualifiers. And over his previous 13 contests, he's reached base nine times in 53 plate appearances, with 19 strikeouts and one walk.
"I understand it," Trumbo said of getting a bad rap for his on-base percentage. "When I'm hitting well, I take a lot of walks. And when I struggle, I don't. Pitchers are going to come at me."
Trumbo has already increased his walks (36 to 45) and doubles (19 to 25) from 2012 to '13, and he still has a good chance to up his home run (32 to 29) and RBI totals (95 to 84).
But his slash line last year was .268/.317/.491.
This year, it's .233/.291/.447, with little time to improve it much more.
"The casual fan would probably be pretty pumped up when they see the baseball-card numbers, and the new-age fans are probably not going to be too terribly thrilled with a player like me," Trumbo said. "But you know what, at the end of the day, you are who you are. I want to get better and do what I do.
"I don't think it's been a tremendous year. But when you break certain things down, as much as a struggle as in my mind it's been at times, I still have quite a bit to show for it."
Alden Gonzalez is a reporter for MLB.com. Read his blog, Gonzo and "The Show", and follow him on Twitter @Alden_Gonzalez. William Boor is an associate reporter for MLB.com. This story was not subject to the approval of Major League Baseball or its clubs.