Dempster goes from focal point to spectator
Dempster goes from focal point to spectator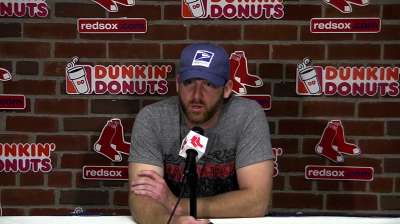 NEW YORK -- When the Red Sox and Yankees last met, on Aug. 18, Ryan Dempster was right in the middle of the action. After three inside pitches on Alex Rodriguez, the righty hit the slugger to finish the at-bat. He was later suspended for five games.
Dempster pitched Wednesday night at Fenway, so he will not pitch in this four-game series at Yankee Stadium. If Dempster had pitched in the Bronx, it would have most likely been a hostile environment.
"I like to pitch whenever my day is to pitch, so it just worked out that way," Dempster said. "I was glad to go out and get a win out there yesterday. I'll be leading the cheering on in our dugout for a few days."
The Yankees did not retaliate in that Sunday night game against the Red Sox. Instead, they let their bats do the talking in a comeback victory that some credit as the key to New York's recent resurgence.
"Our team is just worried about playing the best baseball we can," Dempster said. "We just played a really good homestand. We beat a really good team two out of three games. We're just worried about going out and winning today's game."
Dempster was asked if he had received much reaction from opposing players since the plunking of A-Rod.
"No reaction," Dempster said. "I've just been going about my work and getting ready for my next start after my next start and just trying to be as prepared as I can and just pitch better. That's been my main goal. I think this time of year everybody is focused on their team and trying to go out there and be ready and push hard through September. That's what we're trying to do here."
Ian Browne is a reporter for MLB.com. Read his blog, Brownie Points, and follow him on Twitter @IanMBrowne. This story was not subject to the approval of Major League Baseball or its clubs.