Comeback falls short as A's slip into second place
Comeback falls short as A's slip into second place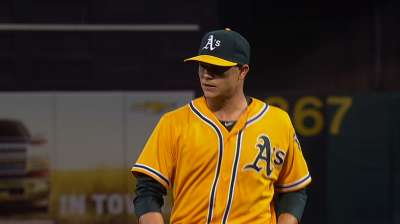 OAKLAND -- The same A's offense that just beat up on a handful of contenders fell silent to baseball's worst team for much of Thursday evening.
The A's 3-2 loss to the visiting Astros in the opener of a three-game set at the Coliseum, which came on the heels of a 9-4 stretch against the Orioles, Tigers, Rays and Rangers, set them back half a game behind the idle Rangers in the American League West.
In the last month, Oakland has averaged more than five runs a game, but six hits and one too many defensive blunders were all the club could manage this time against a 47-93 Astros team, which got seven-plus innings from onetime Oakland prospect Brad Peacock.
"I don't think we came out flat necessarily," said catcher Stephen Vogt. "I think he came out sharp right away, kept us off-balance early and we weren't able to string some hits together early. We were ready to play. Every game is a big game. Tonight we just didn't come up on top."
"These guys came into this series knowing what's at stake baseball-wise," said Houston manager Bo Porter. "These guys are fighting for a playoff spot, and obviously this is where we want to be as an organization. I think it's a great atmosphere for our players."
Peacock surely took advantage of it, overshadowing another impressive outing from fellow rookie Sonny Gray, who allowed just two earned runs -- three total -- in a career high-tying eight innings, but suffered his first career home loss.
"I had the opportunity to catch Peacock a lot in the Minor Leagues, and he's had the capability to have pretty good stuff, and I think tonight we let him get too comfortable too early, especially early in the count when he was really challenging hitters," said Josh Donaldson. "The longer the game went, the stronger he got, and he really had confidence in his curveball."
Oakland's first run off the right-hander came in the eighth inning, when Eric Sogard became the first A's player of the night to reach third base courtesy of a leadoff triple. Vogt followed with an RBI double to extend his career-high hitting streak to eight games.
Then things got interesting two outs later, when Jed Lowrie placed down a bunt for a base hit to put runners at the corners for pinch-hitter Alberto Callaspo, whose tapper in front of the plate led to Vogt beating out a close play at home to make it a one-run game.
Porter didn't agree with the call and was ejected shortly thereafter. As for the A's, they failed to bring in another runner, en route to dropping to 26-18 in one-run games.
"[Peacock] was getting ahead of us, and we didn't make the adjustment until a little bit late," said manager Bob Melvin. "His stuff was much better than we've seen. He was throwing his slider today, had a good curveball, a good fastball, and once he got ahead, he was pitching up in the zone with it."
Peacock's work, which included nine strikeouts, trumped Gray's, despite the A's righty also getting his strikeouts with seven, while walking one and scattering seven hits. Gray induced 14 groundball outs, next to zero fly ball outs, and retired 19 of his final 20 batters, needing 95 pitches total on the night.
But his defense didn't exactly help him out a whole lot.
Gray issued a walk and three hits in the first inning, the last hit was an RBI knock off the bat of Chris Carter, who was packaged with Peacock in the trade that brought Lowrie to the A's in February. But then Lowrie was part of one of two costly plays in Houston's two-run second frame.
With one out and a runner on first, Gray induced a potential inning-ending double play ball up the middle that neither Lowrie nor Sogard claimed in time. Both runners were safe and, one out later, Jose Altuve's single allowed both to score after it ricocheted off the glove of Yoenis Cespedes in left field.
"We didn't play really great behind him," Melvin said. "That ended up costing us that inning. When you're not scoring any runs and you give up a few runs that way, it's going to have an effect on the game."
And the standings.
Jane Lee is a reporter for MLB.com. This story was not subject to the approval of Major League Baseball or its clubs.