Nova can't replicate recent success vs. Boston
Nova can't replicate recent success vs. Boston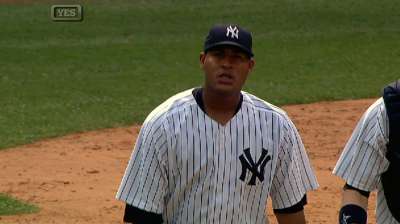 NEW YORK -- Three months ago, the idea of starting Ivan Nova in the opener of a crucial four-game series against the Red Sox might have been a scary one for the Yankees. The right-hander's ERA stood at 5.16, and he was doing most of his pitching in Moosic, Pa., instead of the Bronx.
Three months later, sending Nova to the mound isn't a scary proposition anymore; it's arguably their best choice. The 26-year-old ranked among baseball's best pitchers since rejoining the Yankees on June 23, posting a 6-3 record with a 2.28 ERA over 12 appearances entering Thursday's start and winning the American League Pitcher of the Month honor for August by going 4-0 with a 2.08 ERA.
But Nova couldn't replicate his recent success in New York's 9-8 loss to Boston. The right-hander was forced out of the game early after racking up a high pitch count, lasting just four innings and giving up three runs on five hits and two walks while striking out three.
"They were taking pretty good at-bats off me," Nova said. "I threw all my pitches, and I made good pitches they were fouling off. Today was one of those days. You feel good but you don't get the job done."
The biggest blows against Nova came in the third inning. The right-hander labored through a 47-pitch, 26-minute top of the third, giving up two runs on three hits and two walks.
"They just have a really good idea of what they want to do today," Nova said. "I made a lot of good pitches, and they didn't swing at them. They came prepared for that. Like I said, it's one of those days."
Nova was removed from the game to start the fifth inning after throwing 96 pitches, marking the first time since April 26 he didn't pitch at least six innings in a game he started.
Nova is now 8-4 with a 3.02 ERA this season.
"You're trying to battle until you can't," Nova said. "There's nothing that I can do. I tried to do my best, and I couldn't do the job today. So I'm just going to turn the page."
Bryan Hoch is a reporter for MLB.com. Follow him on Twitter @bryanhoch and read his MLBlog, Bombers Beat. Josh Vitale is an associate reporter for MLB.com. This story was not subject to the approval of Major League Baseball or its clubs.