Peacock, Carter get best of former club in opener
Peacock, Carter get best of former club in opener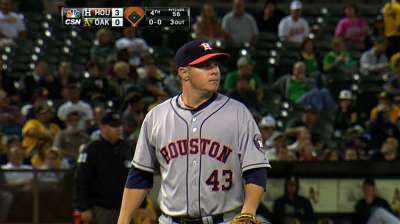 OAKLAND -- Make sure not to take this the wrong way. Josh Fields is a team player. No one was more enthusiastic about starter Brad Peacock's performance after the Astros' 3-2 series-opening win over the A's than the right-handed reliever.
He admits his mentality on the mound that guided his four-out save on Thursday at the O.co Coliseum is questionable, but it works. Relievers are an odd bunch, OK?
"When I get in there -- it's going to sound kind of weird, it's going to sound a bit backward," Fields said. "But I get in there and think, 'You know what, these aren't my runs.' And it's not like if I give them up, whatever. But it takes pressure off me to think, 'You know, my job is to get this guy out right here.' It's like if nobody was on. Those aren't my runners.
"When I come in the situation, my job is to get this guy out, the hitter. And if I can do that without anyone scoring, then that's great. And ultimately that's what you want to do. I feel like for me looking at it like that helps take the pressure off me."
Whatever it is that allowed Fields to strand two runners in an eighth inning in which the A's had already scored two runs, the Astros will take it. Their bullpen has blown 27 saves this season, most of which have come since closer Jose Veras was traded at the Trade Deadline. And it would've been a shame if another late-inning collapse were to spoil Peacock's outing.
The rookie right-hander, who entered the game 3-5 with a 5.98 ERA and winless against the A's in two starts, allowed two runs over seven-plus innings to earn the win.
Formerly a member of the A's organization before he was traded to Houston in February, Peacock struck out nine and walked one, pitching into the eighth inning for the first time in his Major League career.
He struck out four and allowed a single hit his first time through the A's lineup and yielded just five total hits on the night.
"I had everything tonight," said Peacock, who along with Astros manager Bo Porter believes his curveball was as good as it's been all season. "This is definitely a confidence builder."
Peacock's ability to throw his curveball for strikes both in front and behind the count, Porter said, aided in his throwing one strikeout fewer than his season-best total of 10.
"Tonight we let him get too comfortable too early, especially early in the count when he was really challenging hitters," said A's third baseman Josh Donaldson, who caught Peacock in the Minor Leagues. "The longer the game went, the stronger he got, and he really had confidence in his curveball."
The Astros gave their starter the early lead with a run in the first inning and two in the second -- the first made possible when Trevor Crowe hadn't been able to stretch a single into a double in the game's opening frame. He was driven in by a single into left field by Chris Carter, who spent the first three years of his career with the A's before he came to the Astros in the same trade as Peacock.
"I felt like with two outs there, if I had a chance to get into scoring position I'm going to take it," Crowe said. "I just saw an opportunity and didn't hesitate.
"It was just right in between the two guys, and playing outfield, I know that's difficult when you got two guys going full speed. There's going to be a little bit of hesitation right there, so when I saw that happen I just went for it."
The Astros' two runs in the second were driven in on Jose Altuve's single. Once again, the base knock went into left field. But this time A's left fielder Yoenis Cespedes failed to field the ball cleanly, resulting in catcher Matt Pagnozzi scoring from first base.
Oakland scored both of its runs in the eighth inning. The first hit came on an Eric Sogard triple and then a Stephen Vogt RBI double knocked Peacock out of the game. Kevin Chapman was then brought into the game, but couldn't escape the danger, needing Jorge De Leon to come in and end the inning, though not before the A's scored a second run that Porter disputed with such fervor that he was ejected from the game.
"When you slow it down, it looked like the guy probably was safe," Porter said. "But in my opinion, at that point in the game, the ball being there and from the way I saw it from the dugout it looked like he was clearly out. Obviously, if you have the benefit of replay you can slow it down frame-by-frame, you may see it a little different. But at that point, I have to defend my team."
Fields came in with two outs in the eighth to force a groundout to Cespedes and end the threat before pitching a perfect ninth to earn his third save of the season.
"Peacock did an unbelievable job to get us to that point. We wouldn't have been there if he hadn't of pitched so great," Fields said.
"Against a team like this, battling for that playoff spot, this is a top-tier team in the league. It's great to see Peacock have a game like that. He's been solid ever since he's been back up here and seeing the bullpen come in and get some big outs. Those guys did all the hard work and I just had to come in at the end."
Jeff Kirshman is an associate reporter for MLB.com. This story was not subject to the approval of Major League Baseball or its clubs.