Arroyo wants to stay, but financials have to fall in place
Arroyo wants to stay, but financials have to fall in place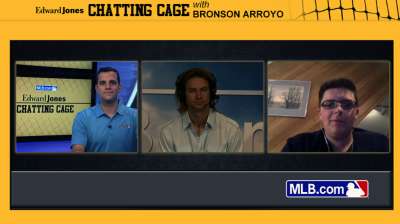 CINCINNATI -- Bronson Arroyo is the longest-tenured player on the Reds' roster, and he has been keenly aware that his time with the team could be coming to a close sooner than later.
Arroyo, who was acquired by Cincinnati in a March 2006 trade with Boston for Wily Mo Pena, is in the final year of a three-year, $35 million contract. He would like to stay longer, perhaps much longer than the Reds can afford to keep him.
"I think it's going to take this organization wanting my services for the next two or three years," Arroyo said during an appearance on MLB.com's Edward Jones Chatting Cage. "There's obviously a limit to how long we can play this game, and we're all trying to maximize our opportunities as far as money. If it wasn't for the dollar bill, I know I would be in this uniform until the day I retire, because I know they enjoy what I do around here, and what I bring to the table on and off the field and inside the locker room. But at the end of the day, dollars and cents always weigh a little heavier than anything else in life, usually.
"If my price tag is a little bit too much or they feel like they don't want to give me more than a one-year deal here, then it's going to be very difficult, because it's probably going to be the last time I have an opportunity to go out and sign a multiyear deal with a ballclub."
Arroyo, 36, is 104-92 with a 4.04 ERA in 261 starts for the Reds over eight seasons. He has never missed a start because of injury, and he has pitched 200 or more innings for the club seven times. The one year he missed that mark, 2011, he threw 199 innings. This season he is 13-10 with a 3.62 ERA in 28 starts.
The success of rookie lefty Tony Cingrani this season in place of the injured Johnny Cueto has shown the Reds that they could have a much cheaper option for the rotation in 2014.
Arroyo made it clear that he would prefer to remain with the Reds until the end, but he isn't willing to accept a discount the way he did when he signed his last contract, or the one before that with the Red Sox.
"I love playing here," he said. "I would love to retire in this uniform, but if they only want to give me a one-year deal, and I'm going to be 37 years old ... You could get hit with a line drive in Spring Training and break your collarbone. My value in the game could go down, so you've got to take opportunities when you can. If there are other teams out there that are willing to give me a three-year deal, and I couldn't get that here, it's going to be very tough to stay."
Mark Sheldon is a reporter for MLB.com. Read his blog, Mark My Word, and follow him on Twitter @m_sheldon. Jeremy Warnemuende is a reporter for MLB.com. This story was not subject to the approval of Major League Baseball or its clubs.