O's take care of White Sox one run at a time
O's take care of White Sox one run at a time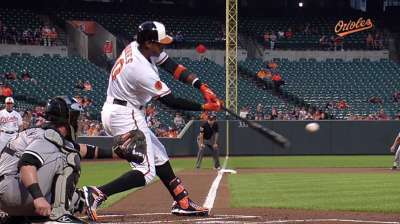 BALTIMORE -- The Orioles couldn't find much offense Thursday night at Camden Yards. But with the way that Miguel Gonzalez was pitching, they didn't need much.
With a career-worst four-game losing streak on his shoulders, Gonzalez pitched seven sparkling innings to propel the Orioles to a 3-1 victory over the White Sox, an important beginning to an important homestand.
"It was kind of like he was on a mission tonight," Orioles manager Buck Showalter said. "A little driven. I think it was a reminder to us of how good Miggy's pitched for us the last two years, and there's some good things left in there."
Gonzalez tied a career high by allowing seven earned runs over four innings last Friday night against the Yankees. He responded Thursday with one of his best outings, notching his first win since July 20.
"It was fun to be out there and be able to go a little bit deeper than in other games," Gonzalez said. "And getting that win, that was important for us."
With their first win of an eight-game homestand, the Orioles moved to within three games of the second Wild Card spot in the American League. The Indians, who were idle Thursday, are also three games back, while the Yankees, who lost to the Red Sox, are 2 1/2 back of the Rays, who lost to the Angels.
"It's not a must win, but I think it's kind of at that point," shortstop J.J. Hardy said. "Our backs are kind of against the wall and we need to win. We need to get on a streak, and this is a good start."
For some Baltimoreans, Thursday's game also marked a moment of contention between the city's two most powerful sports franchises.
The series opener with the White Sox caused too many logistical problems for the Ravens, forcing them to begin their defense of last year's Super Bowl title in Denver. Purple jerseys dotted the seats at Camden Yards, and the football game was playing on every television in the Orioles clubhouse after the game.
"I'd be supporting the Ravens, too," Showalter said. "I am tonight. I'm going back and watching the game."
For Gonzalez, however, all of that was irrelevant. His only focus was keeping the ball down in the strike zone and working his split-finger fastball. The result was four hits, one run and minimal threats from the White Sox.
Gonzalez allowed back-to-back singles in the third inning before walking catcher Bryan Anderson to load the bases with no outs. Alejandro De Aza had a chance to blow the game open for Chicago, but he rolled over a changeup and grounded into a double play. One run scored before Gordon Beckham also grounded out to end the inning.
"That was our spot," White Sox manager Robin Ventura said. "Gonzalez pitched well. He really pitched from behind well. We got him in that situation and he gets a double play to really get out of it."
Gonzalez didn't give up an extra-base hit and only walked one batter. While the Orioles offense could not match Gonzalez's brilliance, the bats did do enough with three swings to make it count.
Adam Jones got it started with two outs in the bottom of the first inning, when he crushed a changeup from left-hander Jose Quintana a few rows deep into the left-field seats. The solo shot was his 30th homer and 100th RBI of the season.
"Cool feat, you know?" Jones said. "You play the game for team success, but also individual success comes with that. I think it's a testament to the guys ahead of me. ... I share it with my team. I can't do it by myself."
Matt Wieters led off the second with a double, but the Orioles did not record another hit off Quintana until the fifth, when Hardy ripped a curveball to left-center for his 25th homer. With that solo home run, Hardy became just the fourth active player -- and ninth since 1901 -- to record three or more seasons of 25 or more homers as a shortstop. Alex Rodriguez (seven), Miguel Tejada (six) and Troy Tulowitzki (three) are the others.
"Like I've said 100 times, I didn't know how good he was. I've kind of run out of things to describe him," Showalter said. "It's an honor to watch him play shortstop every night. He's the most fundamentally sound shortstop I've ever had, maybe I've ever seen."
Brian Roberts tacked on an extra run later in the fifth with his fourth homer. Jim Johnson worked a perfect ninth to record his 42nd save.
While it wasn't a particularly memorable game, Thursday night's victory did have some significance for the Orioles. With only 23 games remaining, they are fighting for wins while also fighting the calendar.
"They're all significant from here on out," Showalter said. "I've said a bunch of times how this part of the year will inch along and you've really got to fight the urge to think the sky's falling or the sky's opening. It's an every day [grind]. Grind your at-bat, grind your outing, and you'll usually like the outcome if you just try to stay in the moment."
Tom Schad is an associate reporter for MLB.com. This story was not subject to the approval of Major League Baseball or its clubs.