Bronx bummer: After rally, Yankees fall in extras
Bronx bummer: After rally, Yankees fall in extras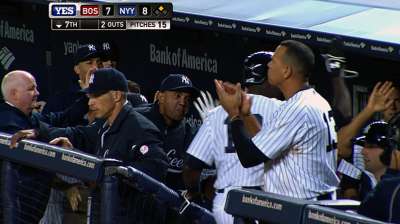 NEW YORK -- The game-tying hit came as Mariano Rivera jammed Stephen Drew with a cutter, producing a liner that traveled just far enough into right field. Shane Victorino's deciding knock an inning later wasn't hit much harder, nor did it travel much farther.
Rivera's sixth blown save of the season spoiled the narrative after the Yankees had rallied back from a five-run deficit, and Joba Chamberlain coughed up the go-ahead run as the Red Sox posted a wild 9-8, 10-inning victory on Thursday.
"It's part of the game," Rivera said softly. "Sometimes you hit the ball hard right at someone, sometimes it's a broken bat. It was a tough one. We just have to forget about it and come in tomorrow."
The Red Sox rallied after Rivera had them down to their final strike in the ninth, a gut punch that followed New York's big six-run rally against three Boston pitchers in the seventh, bringing Yankee Stadium back to life as the contest morphed into a playoff atmosphere.
"It's a tough loss, there's no doubt about it," manager Joe Girardi said. "But we have to bounce back. You can't feel sorry for yourself."
With Rivera working the count to 3-2, Mike Napoli punched a cutter into shallow right field. Pinch-runner Quintin Berry stole second and catcher Austin Romine threw the ball away, allowing Berry to go to third and setting up Drew's game-tying hit.
"That was a very key throw, and I didn't make a very good one," Romine said.
It wasn't the Yankees' last missed opportunity. New York caught a break in the home half of the inning as Alfonso Soriano reached second base despite a pickoff throw, but Soriano pressed his luck and was picked off again by Craig Breslow to short-circuit the rally.
"It's a little tough, but we don't have to put our heads down," Soriano said. "There's three more games left. I hope tomorrow we come with the same energy and the same attitude, try to get tomorrow."
Girardi, who scowled and planted his forehead into the dugout railing after the miscue, said tersely that Soriano "can't get thrown out" in that situation.
The Yankees also had some sideways glances for first-base umpire Joe West, who ruled that Victorino did not offer at what would have been a third strike from Chamberlain. Red Sox manager John Farrell said it was a "borderline call" for West, admitting, "We may have caught a break there."
Given extra life, Victorino connected for a hit that put Boston ahead, despite a strong throw from right field by Ichiro Suzuki that Romine couldn't handle. Chamberlain barked something at West on his way off the field -- "Enough to get me ejected," he said -- and the veteran ump obliged Chamberlain with a thumb.
"It's frustrating," Chamberlain said. "Obviously I've got to make a better pitch after that, but that's the plan we had."
After being limited to a pair of runs through six sleepy innings by Jake Peavy, the Yankees sent 10 men to the plate in the seventh against three Boston pitchers, with Lyle Overbay's two-run single giving New York an 8-7 lead.
Peavy allowed two batters to reach base before Matt Thornton allowed both runs score, trimming the deficit. Soriano greeted Junichi Tazawa with an RBI single and Curtis Granderson pelted the right-field wall with a run-scoring double, setting up Overbay's hit.
"I like the way our guys fought back, and if we continue to play like that, we're going to win a lot of games," Girardi said.
Backed only by Robinson Cano's two-run double in the third, Yankees starter Ivan Nova needed 96 pitches to navigate four clunky innings, making his first start since being handed the American League Pitcher of the Month Award for his work in six stellar August starts.
Jacoby Ellsbury's ground-rule double and a Victorino groundout brought home Boston's first two runs in the third inning. Will Middlebrooks launched a long solo homer into the second deck in left field off Nova in the fourth.
"They were taking pretty good at-bats off me," Nova said. "I threw all my pitches, and I made good pitches they were fouling off. Today was one of those days. You feel good, but you don't get the job done."
Victorino greeted Preston Claiborne with a homer to open a three-run fifth, as Claiborne faced five batters and was unable to record an out. Boston had pushed its lead to five runs with Ryan Lavarnway's RBI single off an effective Adam Warren in the seventh.
"We can't do nothing about it," Rivera said. "You just come back again tomorrow. You can't do nothing. It's done."
Bryan Hoch is a reporter for MLB.com. Follow him on Twitter @bryanhoch and read his MLBlog, Bombers Beat. This story was not subject to the approval of Major League Baseball or its clubs.