Cruz returns to action for Cardinals
Cruz returns to action for Cardinals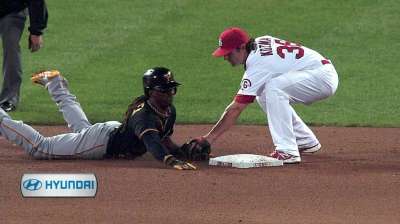 CINCINNATI -- Tony Cruz swinging a bat free and easy was the final thing manager Mike Matheny needed to see before putting his catcher back in the lineup, and that's what he saw during batting practice before Wednesday's game. Thus Cruz saw his name in the lineup on Thursday -- his first appearance since injuring his left forearm on Aug. 14.
"It is exciting after being out that many days," Cruz said. "The swing was one thing he wanted to see, to see if there was a little hesitation. Everything's pretty good so far. That's why they put me in there."
One potential challenge facing by Cruz in his return is Cincinnati's precocious basestealer, rookie Billy Hamilton, who set a single-season record with 155 thefts in 2012 and led the International League with 75 this season. Hamilton stole a base and scored a run on both Tuesday and Wednesday in his first games with the Reds.
"There aren't many true basestealers out there any more," Cruz said. "It's exciting to get a guy out there like that. You're always up to the challenge. You hope he doesn't get on."
Mark Schmetzer is a contributor to MLB.com. This story was not subject to the approval of Major League Baseball or its clubs.