Adams makes history with extra-inning homers
Adams makes history with extra-inning homers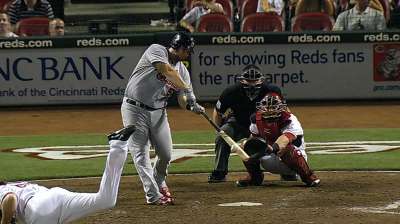 CINCINNATI -- Matt Adams rewrote a couple of records with his home runs in the 14th and 16th innings of St. Louis' 5-4 win over Cincinnati on Wednesday night.
The left-handed-hitting first baseman, in the game only because Allen Craig sprained his left foot in the fourth inning, became the first player in Cardinals' history to hit two extra-inning homers in a game.
He also became the first player in Major League history to hit two home runs in the 14th inning or later of the same game, according to Elias Sports Bureau.
"That's a ton of games," Adams said before Thursday's finale of the four-game series. "It's pretty surprising. It's pretty cool to be the first."
Adams learned of his accomplishment while watching ESPN's SportsCenter. Though he received a lot of congratulatory messages from family members and friends, none of them mentioned records.
"They thought it was pretty cool that we pulled it out in extra innings," he said.
That was all that mattered to manager Mike Matheny, who wasn't aware of the history made by Adams until he was told by media members before Thursday's game.
"I didn't hear all the stats, but I knew it was big for us," Matheny said.
Mark Schmetzer is a contributor to MLB.com. This story was not subject to the approval of Major League Baseball or its clubs.