Ibanez clutch, but Mariners fall to KC in 13th
Ibanez clutch, but Mariners fall to KC in 13th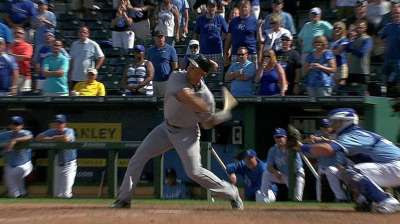 KANSAS CITY -- Raul Ibanez has this uncanny flair for the dramatic and the Mariners saw on Thursday what the Yankees saw during last year's postseason. If you're down to your last out or last strike, there's nobody better to have at the plate than the humble but still hungry veteran left-handed hitter.
Ibanez hit the stun-o-meter in big-time fashion in Thursday's series finale against the Royals -- belting a two-out, two-strike homer in the ninth off closer deluxe Greg Holland that forced extra innings. But in the end, the Royals prevailed 7-6 on Mike Moustakas' walk-off homer against Chance Ruffin in the 13th.
But that didn't detract from what Ibanez accomplished against a man who entered Thursday's game with 31 consecutive saves, and what was the longest active streak in the American League.
Holland had been next to automatic in recent months and the customers at Kauffman Stadium were ready to celebrate when the right-hander came on with a 6-5 lead and opened the ninth with two quick outs.
Mariners manager Eric Wedge still had his ace in the hole and Ibanez came on as a pinch-hitter. After taking the count to 3-2, Ibanez drove a Holland slider over the right-field wall. In a game when Seattle had 48 total at-bats, it was too bad that Ibanez had only one of them.
But what an at-bat it turned out to be against one of the most dominant closers in the Major Leagues.
"Anytime one swing of the bat alters the course of the game, you like him up there," Wedge said.
When the count went to 3-2, Ibanez was just thinking about a quick but relaxed swing.
"Swing easy and try not to do too much," Ibanez said. "He throws 100 and he's got a really good slider. I was just battling at that point. Just trying to put the ball in play."
Royals manager Ned Yost could only tip his cap over that Ibanez home run, his 26th this season at age 41.
"Ibanez is about as good a guy coming off the bench as you are going to find in baseball," Yost said. "He just kind of sat on a slider."
In a game which had wild swings of momentum, the Royals got the last laugh. Ruffin, who was called up on Tuesday following the completion of Triple-A Tacoma's season, did good work in the 11th and 12th innings to keep the game going. But Moustakas opened the 13th with a no-doubt walk-off homer to right.
"It was supposed to be a fastball off the plate and I just missed right down the middle," Ruffin said.
The Mariners (63-77) gave starter Joe Saunders an early 5-0 lead, but the lefty withered in the fifth when he threw 35 pitches. The Royals rallied to make it 5-3 and had the bases loaded when Brandon Maurer limited the damage by striking out Carlos Pena.
Maurer had a strong sixth inning, but then the Royals got to him for four straight hits to open the seventh en route to a three-run rally and the 6-5 lead.
"Maurer came out great," Wedge said. "He got a big strikeout and ran through the next inning. For whatever reason, we've seen him do that. … he has trouble getting somebody out then. His stuff is too good for that. Between that and Saunders having trouble getting the final out in the fifth inning, that was the difference for us on the mound today."
The Royals finished with 19 hits, including five by Billy Butler and four by Emilio Bonifacio. They would have celebrated much earlier if not for Ibanez's ninth-inning shocker.
Kansas City (73-67) won three of four in the series and still has flickering playoff hopes.
"It's a huge win to be able to battle back like we did, down 5-0, and show the character that we showed today," Yost said.
Although his saves streak came to an end, Holland was just happy that the Royals found a way to prevail long after he had departed.
"You would expect a lot of teams to be deflated," Holland said. "But we didn't bat an eye."
Robert Falkoff is a contributor to MLB.com. This story was not subject to the approval of Major League Baseball or its clubs.