Holland's tremendous saves run ends at 31
Holland's tremendous saves run ends at 31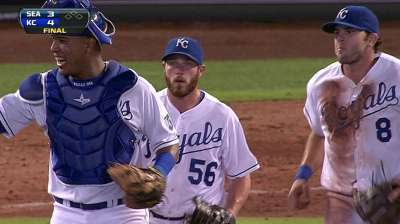 KANSAS CITY -- Greg Holland's streak of 31 consecutive saves wasn't the only run that ended in the Royals' 7-6 win over the Mariners in 13 innings on Thursday. He also lost a string of 17 straight scoreless one-inning appearances.
The Royals closer entered the game in the ninth inning with a one-run lead. He retired the first two batters, but gave up a game-tying home run to pinch-hitter Raul Ibanez. Holland's saves streak, which was the second longest in franchise history, was halted. Joakim Soria holds the record with 36 straight saves.
"I just wanted to win," Holland said. "It's one of those things where you try to go out there and execute pitches, and I didn't execute one pitch and the game is tied."
It was the first time since May 6 against the Chicago White Sox that Holland hadn't converted a save. Since May 30, he's allowed just four earned runs in 40 innings for a 0.90 ERA with 61 strikeouts. Ibanez's homer was the first run scored against him since July 27.
"Ibanez is about a good a guy coming off the bench as you're going to find in baseball," Royals manager Ned Yost said. "He just kind of sat on a slider, got one and hit it out."
Entering Friday night's series opener against the Tigers, Holland's 38 saves ranked seventh on the Royals' single-season list and just one behind Jeff Montgomery's 39 in 1992. Holland is just the fourth Royals reliever to record 40 or more saves in a season -- joining Montgomery, Soria and Dan Quisenberry.
Dick Kaegel is a reporter for MLB.com. Kathleen Gier is an associate reporter for MLB.com. This story was not subject to the approval of Major League Baseball or its clubs.