Lucky 13th: Moose belts walk-off jack vs. M's
Lucky 13th: Moose belts walk-off jack vs. M's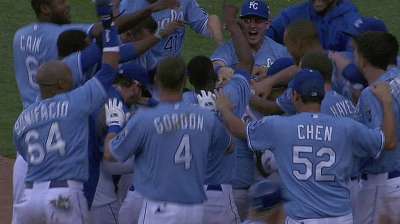 KANSAS CITY -- Mike Moustakas' shot soared out of the ballpark. The crowd went wild. The ball went foul. Manager Ned Yost was leaning on the rail of the Royals' dugout and looked at Eric Hosmer.
"As soon as Moose hit it, I was hoping it would stay fair," Yost said. "When it didn't, I turned to Hoz and said, 'Why is fate tempting us right here? Why does it tease us like this? Why?' Normally, anytime somebody does that -- a long foul ball homer, and they've got two strikes on them -- that's it. I can't remember one time I've ever seen a guy back it up and hit one fair."
But now, Yost has seen it happen.
Moustakas took another big swing and drove right-hander Chance Ruffin's fastball into the right-field bullpen to give Kansas City a stirring 13-inning, 7-6 walk-off victory over the Seattle Mariners.
"So when he hit it fair, it was like 'w-o-w," Yost said. "Pretty special."
"The second one, I knew was going to stay fair," Moustakas said. "I hit it pretty good. I knew it was going to stay fair, I kept my hands inside pretty well."
After banging the Royals' first walk-off home run this season, Moose was swamped by his teammates at home plate. There was reason for joy. It was the Royals' ninth victory in their last 12 games.
Hey, maybe there really is something to the Royals' long-shot bid for a Wild Card spot in the American League. Certainly, they're shortening the odds.
Next up over the coming two weeks: Six games against the Detroit Tigers, the first-place team in the AL Central, and six against the Cleveland Indians, in second place and one of the teams ahead of the Royals in the Wild Card hunt.
"We looked at this a month ago and said, 'Hey, if we're in good shape when we get to this point in the season, it's going to be real interesting here over these next 12 games,' " Yost said.
The Tigers are in Kansas City over the weekend.
It was a classic comeback that the Royals pulled off on Thursday afternoon to entertain the 14,004 fans. They were down 5-0, then ahead 6-5 in the seventh inning. Trouble was, it didn't hold because, of all the rare occurrences, closer Greg Holland blew a save.
Ol' Raul Ibanez, 41, but with a history of all those dramatic home runs last year for the Yankees, did it again. Holland got two outs in the ninth and Ibanez pinch-hit for Henry Blanco.
Was maybe Ibanez thinking about duplicating that playoff drama of 2012? Umm, not against Holland.
"Sometimes, if a guy isn't throwing that hard, then maybe you can look to do a little damage," Ibanez said. "But when a guy is throwing that hard with that good of a slider, you can't go up there and try to do damage. He throws really hard, he's got some deception in his delivery and he's got a really good slider."
Except one slider went bad.
"I got ahead of him 1-2 and tried to punch him out," Holland said. "Got the count back to 3-2 and I just threw a bad slider. And he hit it. That happens sometimes. I felt like I threw one bad pitch the whole inning and it was a home run."
Boom, the ball flies over the right-field fence and it's 6-6, ending Holland's string of 31 consecutive saves.
Another big moment in a fascinating afternoon.
The Royals' Billy Butler went 5-for-5, all singles and one of them crucial in the comeback. Alex Gordon launched the comeback with a two-run homer. Emilio Bonifacio had four hits and scored twice. Salvador Perez was 3-for-3 before leaving with mild dizziness after being whacked by a foul ball.
"Five runs -- we know we have a good enough offense that we can go and put some runs up in a hurry. That's what we did," Moustakas said. "Billy had a fantastic game, Salvy had a great game while he was in there and those guys pretty much carried us until we were able to battle back."
Royals starter Jeremy Guthrie gave up five runs early, drilled by a Justin Smoak home run in the three-run first. Single runs came in the third and the fourth, but Guthrie grinded his way through six innings.
"The key to this ballgame was Guthrie had a scoreless fifth and sixth inning without his best stuff to allow us to get to our closer in the ninth inning with the lead," Yost said. "That was huge."
The Royals, who piled up 19 hits, finally got going against left-hander Joe Saunders in the fifth inning, launched by Jamey Carroll's double (his second hit in 27 at-bats for KC) and Gordon's homer, his team-high 17th. They added a third-run on Perez's RBI single.
The inning might have been bigger, but veteran Carlos Pena, in his first at-bat since being called up, struck out as a pinch-hitter with the bases loaded.
The seventh inning yielded three more runs, all charged to reliever Brandon Maurer. He was dinged for four straight hits, Bonifacio's single, Hosmer's RBI double, Butler's run-scoring single and Brett Hayes' double. Charlie Furbush relieved Maurer and gave up a sacrifice fly to Justin Maxwell, putting the Royals ahead, 6-5.
That's how it stood until Ibanez teed off against Holland.
"That's something that's really different for us," Moustakas said. "Holly usually comes in the game and it's lights out, but we were able to pick him up for once today and it was nice."
The other six relievers in the game -- Francisley Bueno, Will Smith, Tim Collins, Kelvin Herrera, Donnie Joseph and winner Louis Coleman -- combined for six scoreless innings.
Now the Royals plunge into their final 22 games.
"Every game is crucial, every game is extremely important," Yost said. "We've seen our players do this the majority of the year. They continue to fight. It doesn't matter how far down they are. They continue to get after it. They don't believe even though we're down five that we're out of the game or that we're going to lose the game. They keep getting after it and finding ways to get back into it."
Dick Kaegel is a reporter for MLB.com. This story was not subject to the approval of Major League Baseball or its clubs.