Two pitches, one decision prove costly in Angels' loss
Two pitches, one decision prove costly in Angels' loss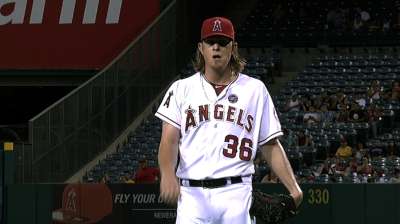 ANAHEIM -- For a little less than two weeks, everything was clicking and the Angels were seemingly unbeatable.
Dominant pitching and timely hitting led to victories in nine of 10 games, but that has not been the case the past two nights, as the Angels dropped back-to-back games to the Rays, the latest a 3-1 loss Wednesday night at Angel Stadium.
Jered Weaver made just two mistakes -- a pair of homers to Wil Myers -- but the Angels were unable to provide any run support until it was too late. The Angels' ace turned in his third consecutive quality start, but was denied his 10th win.
"I felt like I threw a good game for the most part," Weaver said. "Just two bad pitches, and it ended up beating us."
Weaver, who allowed three runs on six hits in seven innings, has held opponents to a .158 batting average in his last three starts, but couldn't figure out how to get Myers out.
The Rays rookie hit a solo home run to center field in the second and added a two-run shot - a pair of runs that potentially could have been avoided - in the seventh.
Desmond Jennings stole second with Myers at the plate in the seventh, leaving first base open with one out. Having already witnessed one Myers home run, Angels manager Mike Scioscia could have walked him, but opted to let Weaver try to get the out.
Weaver hung a slider, and Myers gave the Rays a 3-0 lead.
"We have a lot of confidence in Weave being able to expand; he's got great command," Scioscia said. "I probably put a little bit too much on him there. It was a little later in his game, a little higher pitch count. That's when guys are prone to make mistakes. I thought he could make a pitch, pitch around the fringe, but I probable put a little too much on him there."
That was the only offense Jeremy Hellickson and the Rays would need.
Hellickson, who was making his first start since Aug. 26, scattered four hits across 5 1/3 innings before the bullpen took over and preserved the lead.
"I did feel rested," Hellickson said. "I think my fastball had a little more life to it, curveball might have been a little sharper."
Angels catcher Chris Iannetta provided the Angels' only run via a pinch-hit home run to lead off the seventh.
"It's tough," Weaver said. "I'm obviously a guy that likes to go out there and win ballgames, a pretty competitive person. It's just one of those games where we couldn't get anything going and a couple home runs beat us."
William Boor is an associate reporter for MLB.com. This story was not subject to the approval of Major League Baseball or its clubs.