Myers, Hellickson break free of slumps to win in LA
Myers, Hellickson break free of slumps to win in LA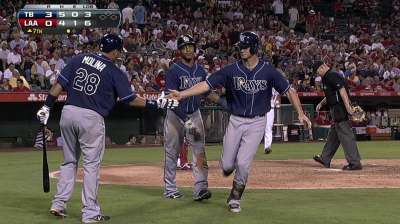 ANAHEIM -- Wil Myers and Jeremy Hellickson each ended their respective droughts to lead the Rays to a 3-1 win against the Angels on Wednesday night at Angel Stadium.
Tampa Bay (77-61) won for the second consecutive night to remain 5 1/2 games behind the first-place Red Sox in the American League East. They also held their position for the AL's second Wild Card spot, maintaining a 2 1/2 game buffer on the Yankees and 3 1/2 on the Indians. The back-to-back wins were the Rays' first since Aug. 23-24. They are now 15-3 in their last 18 games at Angel Stadium.
Myers has been in a slump that saw his average take a freefall from .340 on Aug. 9 to .283 entering Wednesday night's game. Within that slump was a homerless streak of 17 games.
Not any more.
Myers found his power stroke with two home runs off Angels starter Jered Weaver. The first came in the second on the first pitch he saw from the Angels' right-hander, giving Myers his first home run since Aug. 14, against the Mariners. He followed that with his 11th home run of the season, a two-run shot in the seventh that put the Rays up, 3-0.
"I felt like I threw a good game for the most part, just two bad pitches and it ended up beating us," Weaver said.
Myers said his approach was simple: Look for something to hit away.
"The scouting reports said he throws it away," Myers said. "Luckily I was able to adjust in, because that's where those pitches were."
Rays manager Joe Maddon could be counted among the many impressed with Myers' work Wednesday night.
"Those balls were crushed," Maddon said. "The first one was hit well, but that second one left hot. It's nice to see that. We can really use that about now. That's three runs tonight. This is a young man who is not overwhelmed. He's going to have some bad moments, and he's struggled a bit at the Major League level right now. And he faced a very, very good Cy Young type of pitcher tonight, and was able to get two, and that was pretty impressive."
Myers noted the only way to get out of a slump is to keep going to the plate, and he has been the afforded the opportunity to do so during his struggles.
"You can't take games off," Myers said. "The only way to get the feel back is to keep playing. I thought it was big to keep being in the lineup. I feel better at the plate. The biggest thing is I feel ready to hit."
Meanwhile, Hellickson started for the Rays after a brief hiatus from the team to help him regroup. In a strictly procedural move, the Rays optioned him to Class A Charlotte, then moved him to Double-A Montgomery before recalling him.
Hellickson did not report to either Minor League team, but he did miss a turn in the rotation in the hopes that the break would allow him to regain the form he had earlier in the season and finish strong.
Hellickson's last start prior to Wednesday night came Aug. 26, in Kansas City, where he failed to complete five innings for the fifth time in his last six starts. The right-hander was gone after just 2 2/3 innings, with the Royals already up, 5-0, and in cruise control en route to an 11-1 win.
He entered Wednesday night's game at 10-8 on the season with a 5.21 ERA after getting off to a 10-4 start, which was fueled largely by his work from June 2 to July 26, when he went 8-1 with a 3.17 ERA.
Hellickson responded to the time off by logging 5 1/3 scoreless innings before Mike Trout's double to left field chased him. He allowed four hits and two walks, striking out four en route to his 11th win of the season and first since July 26.
"I did feel rested," Hellickson said. "I think my fastball had a little more life to it. Curveball might have been a little sharper."
Alex Torres took over for Hellickson to retire Josh Hamilton on a groundout for the second out of the sixth. After hitting the next batter, Kole Calhoun, Torres got Mark Trumbo to roll over to second base to end the inning.
Chris Iannetta hit a solo home run off Jake McGee in the seventh to cut the Rays' lead to 3-1, but Joel Peralta pitched a scoreless eighth before Fernando Rodney finished it off by retiring the Angels in order in the ninth to earn his 32nd save of the season.
Bill Chastain is a reporter for MLB.com. This story was not subject to the approval of Major League Baseball or its clubs.