Lobaton heats up as confidence improves
Lobaton heats up as confidence improves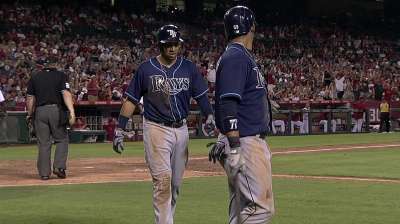 ANAHEIM -- Jose Lobaton is hitting .327 with a .407 on-base percentage in 19 games since the beginning of August. Prior to that streak, he had just two hits in 29 at-bats.
The Rays catcher believes he's the most comfortable that he's ever been as a Major Leaguer, on and off the field.
"Before, I was more of a shy guy in the clubhouse, and on the field, too," Lobaton said. "You see a lot of guys like David [Price], [Evan Longoria], you don't want to get noticed too much."
Lobaton said he now feels like he belongs, which goes a long way in the confidence department.
"Everybody tells me, 'You're different this year. You're a funny guy, talking all the time,'" Lobaton said. "Before it was more like I didn't want to say anything where somebody might say, 'Look at this rookie, he's talking too much.'"
Even Lobaton's body language at the plate looks different.
"I've got a lot of guys here who helped me with that," Lonbaton said. "When you're struggling, don't show it with your body language. [Alex] Torres told me one day, 'You're struggling right now, you're a little bit down, don't show anybody that. Be aggressive no matter what. You're 0-for-3, but be ready to hit.' That worked for me."
Lobaton went 1-for-5 in Tuesday night's 7-1 win against the Angels.
"I'm happy when I hit, like yesterday I got one hit," Lobaton said. "But I was really happy that we won."
Bill Chastain is a reporter for MLB.com. This story was not subject to the approval of Major League Baseball or its clubs.