Padres battered by Giants' six-homer day
Padres battered by Giants' six-homer day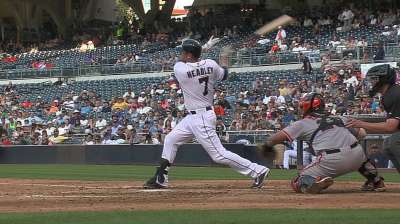 SAN DIEGO -- The last time Giants pitcher Tim Lincecum stood atop the Petco Park mound, he made history against the Padres by throwing the first no-hitter of his career.
But on Wednesday, it was teammate Pablo Sandoval who provided the historic stamp when he clubbed three home runs and drove in six runs in the Giants' 13-5 victory.
"We've seen Sandoval since he came into the National League," said Padres manager Bud Black. "When he's hot, he's hot. He can hit any pitch. He's tough to pitch to."
For Sandoval, it was his first regular-season game with three home runs, though he accomplished the feat in Game 1 of the 2012 World Series against the Tigers. Sandoval has 18 career home runs against the Padres, the most against any team he's faced.
Sandoval joked with teammate Brandon Crawford in the dugout about home runs earlier in the game, after Crawford hit one in the third inning.
"He [Crawford] got me fired a little bit. We were sitting down, he asked me how many home runs do I got. I say, 10, and he was like, I've got nine, I've got your back. I was like, OK, we'll see what's going on right now," Sandoval said.
All told, the Giants had 17 hits, including six home runs, as they salvaged a victory in the three-game set against the Padres (62-77). The two teams combined for eight home runs, which marked the third time it's happened at Petco Park. The last occured July 14, 2006.
As for Lincecum, he wasn't nearly as invincible Wednesday as he was two months ago, when he needed 148 pitches to no-hit the Padres. In fact, he allowed a hit on the first pitch he threw, and the Padres made for an uneasy first inning as Lincecum was teetering badly.
Lincecum (9-13) allowed the leadoff single to Will Venable, hit Jedd Gyorko with a pitch and then uncorked a wild pitch that allowed a run to score. Lincecum later walked Chase Headley to load the bases. That gave Nick Hundley a chance to do some damage early.
Hundley jumped on an offspeed pitch, lining it down the left-field line. But the ball was hit so hard that it hooked late into foul territory.
"That's one you wish would have stayed fair," Hundley said. "He threw me eight pitches, all of them offspeed pitches. You hit the ball like that, you hope it stays fair."
It didn't, and Lincecum eventually struck Hundley out. He did the same to Reymond Fuentes to end the inning with the Padres leading, 1-0.
"I think I just focused a little bit more on those pitches and just knew what I had to throw them. It was nice to get out of that inning," Lincecum said. "Other than that, if you look at the whole game as a whole, I didn't do very well."
The Padres led 2-0 early as Lincecum hung in there, allowing five runs on seven hits over 5 2/3 innings. He walked four and struck out five.
He fared better than Padres starter Eric Stults, who allowed a season-high seven run on nine hits over 4 2/3 innings. He didn't walk a batter and had four strikeouts.
"He just wasn't making pitches consistently," Black said.
For the first four months of the season, Stults was one of the Padres' most dependable -- and consistent -- pitchers. In fact, he won two games in each of the first five months of the season before struggling in the month of August, when he was 0-2 in five starts with a 5.10 ERA.
His first start in September would prove about as unkind as his August, if not worse. Stults got through the first two innings unscathed but allowed the home run to Crawford to start the third inning on an 84 mph fastball on the inner third of the plate.
The Giants (62-77) continued to hit Stults in the fourth inning. Stults allowed a leadoff single to Brandon Belt and then surrendered a two-run home run into the upper deck in left field to Hunter Pence. Three batters later, Hector Sanchez hit a two-run home run into the bullpen area in center field.
"They didn't miss much," Hundley said of the Giants. "You've got to give them some credit, too."
Stults (8-13) allowed two hits in the fifth inning, including an RBI double to Pence before he was lifted in favor of reliever Brad Brach, who promptly allowed a two-run home run to Sandoval. Sandoval's last home run came in the ninth inning, left-handed, hitting it over the wall in left field.
The Padres chipped away and got the deficit down to 8-5 with a run in the fifth inning on a home run by Headley and then two more runs in the sixth inning on an RBI single by Venable and a run-scoring double by Alexi Amarista.
Headley, playing his first game since missing six with a sore lower back, also lined out to the second baseman and flied out to deep center field.
"I felt like I took some good swings all day," Headley said. "That one to center was close. That one hit the barrel the way I wanted it to."
Corey Brock is a reporter for MLB.com. Keep track of @FollowThePadres on Twitter. This story was not subject to the approval of Major League Baseball or its clubs.