Langston recalls teammate Abbott 20 years after no-no
Langston recalls teammate Abbott 20 years after no-no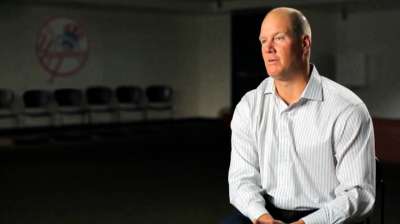 ANAHEIM -- Mark Langston can recall a pretty telling Spring Training game. Jim Abbott was up to bat, and the Giants' outfielders played the one-handed-pitching sensation embarrassingly shallow. So Abbott ripped a line drive over their heads, raced around second, slid headfirst into third base, sprung up and boisterously pumped his fists.
"He was a little pissed at where they were playing him and just ran into a pitch," Langston said. "But he is just the ultimate competitor."
Wednesday marked the 20th anniversary of Abbott's no-hitter, which happened on Sept. 4, 1993. He accomplished the inspiring feat with the Yankees, but for six years, including his first four in the Majors, Abbott was a member of the Angels. And for five years, from 1990-92 and then from 95-96, Langston was Abbott's teammate in Anaheim.
Abbott compiled 54 wins and posted a 4.07 ERA in his Angels career. From 1991-92, he and Langston combined for 57 wins.
"He was and is one of my favorite guys on the planet," said Langston, a color analyst for Angels Radio AM 830.
Abbott's Major League debut came at Angel Stadium on April 8, 1989, opposite Langston, then a Mariners starter who delivered a shutout.
"I felt bad for him, almost, on the way up, because there was like 70 people on the field walking with him out to the bullpen -- cameras and reporters," Langston said. "And then coming here and playing with him, for like the first week, you're just mesmerized by what he was capable of doing. And then after the week, it's like you just totally take it for granted. I've never seen anything that he hasn't been able to excel at."
Alden Gonzalez is a reporter for MLB.com. Read his blog, Gonzo and "The Show", and follow him on Twitter @Alden_Gonzalez. This story was not subject to the approval of Major League Baseball or its clubs.