Craig has foot sprain, will get MRI in St. Louis
Craig has foot sprain, will get MRI in St. Louis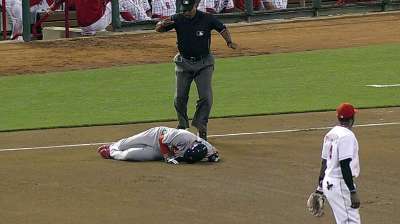 CINCINNATI -- St. Louis first baseman Allen Craig left the Cardinals' game against the Reds in the top of the fourth inning on Wednesday with what was originally diagnosed as a left foot sprain.
X-rays of the foot were inconclusive, according to manager Mike Matheny. Craig was scheduled to return to St. Louis for an MRI, he said.
"It's a foot sprain, but I'll find out more tomorrow," said Craig, who was wearing a boot and using crutches. "They want me to have the MRI tomorrow to find out exactly what's going on without making any assumptions."
Craig was credited with an infield single on a chopper that Cincinnati first baseman Joey Votto fielded with a diving stop, but then threw over the head of pitcher Bronson Arroyo and into foul territory in front of the first-base dugout.
Carlos Beltran was on second with the Reds leading, 2-1, and he scored the tying run on Votto's throwing error while Craig sustained his injury rounding first and trying to avoid first-base umpire Laz Diaz.
"[I] just turned to see where the ball was going and I saw that it was an overthrow," Craig said. "I was wondering if I was going to advance on the play. I must have just done something weird.
"It scared me, because my foot has never bent like that before. I tried to walk it off because it was a little sore. It's still sore. We'll figure out the extent of it tomorrow. Hope it's good."
Craig was hitless in his previous 11 at-bats before the infield single. He went into the game ranked third in the National League with 97 RBIs and sixth in hitting with a .314 batting average. His .450 average with runners in scoring position led Major League Baseball.
Mark Schmetzer is a contributor to MLB.com. This story was not subject to the approval of Major League Baseball or its clubs.