CarGo's playing status is day to day
CarGo's playing status is day to day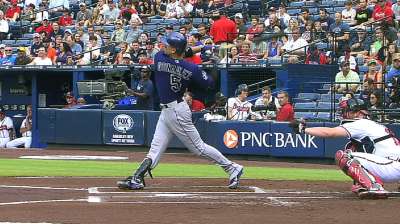 DENVER -- Rockies manager Walt Weiss wasn't sure if slugger Carlos Gonzalez would be available to hit against the Dodgers Wednesday night.
As recently as two days ago, it looked like Gonzalez might be back in the Rockies lineup for good. But he had a setback with the sprained middle finger that had him on the disabled list before his third rehab start. On Monday, the conversation quickly turning to how much he can play.
Gonzalez played left field in the eighth inning Tuesday night and immediately announced his presence, holding Dodgers second baseman Mark Ellis at third on a double that kept Los Angeles' lead at two runs. But as expected, he was removed in the bottom of the inning, pinch-hitter Josh Rutledge making up for his absence by belting a solo homer over the left-field wall.
"Even if he's not hitting, there's ways he can impact the game, as you saw last night," Weiss said.
"We've talked about different options. I think as it stands right now, we're going to play it by ear. If it gets to the point where that thing really flares up and we're closing in on the end of the season, and of course we'll make that judgment. But as it stands now, we're going to go day to day with him."
Gonzalez did not take batting practice Wednesday and Weiss said his status us unchanged -- he will only play when his hand feels strong enough to do so, and he will be rested as necessary.
Ian McCue is an associate reporter for MLB.com. This story was not subject to the approval of Major League Baseball or its clubs.