Nava's on-base streak a rarity
Nava's on-base streak a rarity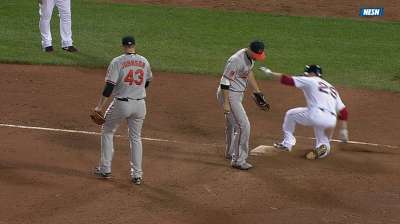 BOSTON -- Daniel Nava singled in his first at-bat Wednesday to continue an impressive streak, having reached base safely in 39 consecutive starts. As a starting player, it's the longest active streak in the Majors, third longest of the season and second longest in Red Sox history.
Nava said the streak has meant nothing to him, but it's highlighted a player who has crafted one of the more unique careers in Major League Baseball. Beyond his journey to get here, his statistics alone are worth marveling over.
Simply put, players like Nava rarely existed in the Majors when Nava was just a boy, watching players like Mark McGwire, Sammy Sosa and Barry Bonds smack 50-plus homers a year.
Would Nava's skill set have been appreciated in the 1990s?
"No, not at all," Nava said. "That was a different game. Everyone was throwing 97 [mph] and hitting 30 [homers]. It was a different game, so I'm sure it probably wouldn't have been as much as part of the game as it was now."
Through his three-year career in the Majors, Nava has posted 162-game averages of 11 homers, a .269 batting average and .368 on-base percentage.
From 1990-99, there were 196 instances in which a player posted an average as low as Nava's with 11 home runs or less in a qualified season. Only in nine of those seasons (three were by Ricky Henderson) did the player post an on-base percentage as impressive as Nava's .368 mark. And there were just two seasons, one by Henderson and one by former Red Sox outfielder Mike Greenwell, in which Nava's OPS of .776 was reached.
Red Sox manager John Farrell said he thinks Nava's versatility, batting average and defense would have made him an appreciated player in the 1990s, too. But if home runs weren't being hit at a rapid rate or batting averages weren't approaching .300, players rarely made their way into lineups then.
The appreciation of stats like on-base percentage, OPS and wins above replacement have given players like Nava a chance to prove themselves worthy.
"It is funny to think about," Nava said. "Just getting on base to hopefully turn the lineup over is definitely what I'm trying to do. I really don't care how it happens.
"Getting on base, I think the Red Sox do a good job of preaching, 'We're not about hitting .350. We're about getting on base, because it's about turning the lineup over to give us a better chance of scoring. Better chance of scoring, better chance of winning.'
"They always emphasized a 'quality at-bat.' I didn't know that, per say, I was having a 'quality at-bat' until they described what a 'quality at-bat' is, and I was like, 'Oh, OK, that's what you're looking for?' So fortunately the type of at-bat which I had was the type of at-bat that they said they were looking for."
Would another organization appreciate Nava the way the Red Sox do?
"Who knows?" he said. "I'm not sure, but I'm glad I'm in this one."
Jason Mastrodonato is a reporter for MLB.com. Follow him on Twitter @jmastrodonato. This story was not subject to the approval of Major League Baseball or its clubs.