De La Rosa beats Dodgers for 16th victory
De La Rosa beats Dodgers for 16th victory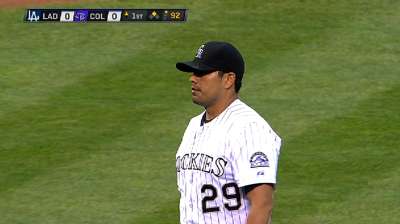 DENVER -- Forgive the Rockies for being happy that pitcher Jorge De La Rosa's left thumb hurts him every time he pitches.
De La Rosa won his sixth straight start and remained tied for the National League lead in wins while holding the Dodgers to two runs in six innings as the Rockies averted a sweep with a 7-5 victory at Coors Field on Wednesday night in front of 28,439.
Commanding his fastball and forcing poor swings with his changeup, De La Rosa (16-6) struck out four and kept the potent Dodgers quiet as the Rockies (66-75) built an early lead. Of course, the NL West-leading Dodgers (83-56) nearly pulled off yet another comeback in their hard-to-fathom second half.
But the Rockies held the lead, and allowed De La Rosa to match his 2009 career high for wins and remain tied with the Nationals' Jordan Zimmermann, who also won Wednesday, for the league lead. He could smile through the soreness that has been present every outing since he first suffered the injury while pitching at Toronto on June 17.
"They tell me, 'If you keep pitching like that, next year we're going to do something to your thumb again,'" De La Rosa said.
The thumb issue is vexing, but it beats the daylights out of what De La Rosa dealt with in 2011 and 2012. He suffered a left elbow injury in May 2011 that forced him to undergo Tommy John surgery, and last year had a setback during rehab and made three ineffective starts at the end of the season. Now he has returned to his spot among the NL's best left-handed starters.
"It's pretty amazing, missing a year and a half, coming back and pitching like he has," Rockies manager Walt Weiss said. "His thumb always hurts. It's just to what degree. But he did a great job.
"There have been a couple of times where it flared up real good and we thought he would miss a start, maybe even DL [disabled list]. We've talked about that route when it was at his worst. But he seems to bounce back and he seems to be able to pitch with it."
De La Rosa pitched through two hits and one run in the first.
"They're good hitters, but after that I made adjustments and kept the ball down," De La Rosa said.
He kept the Dodgers quiet until the sixth. That was when Nick Punto, Hanley Ramirez and Michael Young all singled to load the bases. De La Rosa forced a Scott Van Slyke double-play grounder that allowed a run to score, then worked A.J. Ellis into a grounder back to the mound.
"They've got to be sitting on changeup in certain situations," said Todd Helton, who helped De La Rosa to an early lead with a solo home run. "But even when they make contact, they don't do what they want to with the ball."
De La Rosa wasn't the only Rockies player to finish the night atop a statistical category.
Michael Cuddyer went 2-for-2 with a sacrifice fly, two RBIs and an intentional walk to lift his batting average to .331, which placed him in the NL batting lead at night's end. In his last 16 games, Cuddyer is 25-for-65 (.385) and has eight multihit performances.
The night wasn't a complete success for the Rockies. Rookie third baseman Nolan Arenado left after the top of the fourth with a bruised right thumb. Arenado has been dealing with the injury for weeks, but he aggravated it during an early at-bat, and committed a throwing error in the fourth inning. Weiss said Arenado is "day to day."
In their search for pitching depth, the Dodgers recently signed right-hander Edinson Volquez (9-11) after he was let go by the Padres. Volquez's Dodgers debut came just in time for the Rockies, who bested him for four runs on six hits -- including Helton's 12th homer of the season -- in four innings.
In six starts against the Rockies this season, Volquez is 0-5 with a 12.43 ERA, including 0-3, 13.78 in four starts at Coors. In his career, Volquez has a 7.80 ERA in 13 games against the Rockies, and an 8.45 ERA in eight games at Coors.
"They hit some balls hard, but he made some good pitches, we thought," Dodgers manager Don Mattingly said. "I thought he threw the ball OK. He threw some balls the way we want and some not as consistent. We're trying to get him more consistent so his confidence grows and our confidence grows."
The Rockies also touched reliever Carlos Marmol for three runs and three hits in the seventh to take a 7-2 lead.
However, Rockies reliever Matt Belisle gave up three runs on four hits in the eighth. The inning was helped along by second baseman Josh Rutledge's error on Ellis' hard grounder, which could have been an inning-ending double play. But Manuel Corpas entered with one out to face standout Dodgers sent up in pinch-hit roles.
Corpas struck out Carl Crawford swinging and Yasiel Puig with an awkward 3-2 swing. Puig was looking for a slider, Corpas' usual out pitch. But catcher Wilin Rosario convinced Corpas to use his fastball inside.
"I think that was a good idea -- he was not looking for a fastball inside," Corpas said.
Rex Brothers pitched the ninth for his 15th save.
Thomas Harding is a reporter for MLB.com. Read his blog, Hardball in the Rockies, and follow him on Twitter @harding_at_mlb. This story was not subject to the approval of Major League Baseball or its clubs.