Players not interested in giving up on 2014
Players not interested in giving up on 2014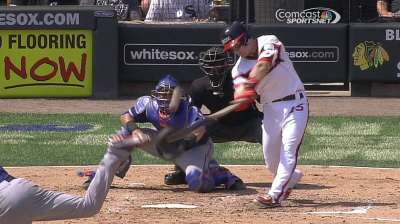 NEW YORK -- If the 2014 season is considered part of the White Sox reshaping process, where development might supersede winning as the overriding priority, then the message hasn't made its way to White Sox players. They certainly don't view next year as a lost campaign after playing through the trials and tribulations of this season.
"I'm not coming into next year saying, 'This is a rebuilding year.' .... That's not why you work out all offseason," White Sox second baseman Gordon Beckham said. "If you are looking at it just to be like this is going to be one of those years where it doesn't work out, I don't think you put enough into it.
"So, you go in hoping to have everything and if you fall short, you fall short. You definitely don't prepare for next season or go in to next season with any sort of doubt as to what you can do.
"The sky is the limit in terms of what I think. Maybe that's stupid. Maybe that's not looking around and seeing what you got. But that's why you can't win the division in the offseason. You have to go and play. If we have enough guys that play the game the right way, that want to win, that really genuinely want to win, we'll be OK."
Boston played as poorly as any team in baseball at the end of '12. Now, they are headed toward an American League East title. With the right moves and right focus, as Beckham said, change can happen quickly.
"Going back a year ago right now, it would have seemed impossible to be where we're at right now," White Sox captain Paul Konerko said. "If that can happen, anything can happen. That's all I think about is how it didn't seem like this would even be possible to have the season go like it has."
Scott Merkin is a reporter for MLB.com. Read his blog, Merk's Works, and follow him on Twitter @scottmerkin. This story was not subject to the approval of Major League Baseball or its clubs.