Morales' jack gives Mariners last word vs. KC
Morales' jack gives Mariners last word vs. KC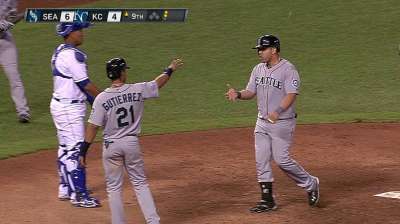 KANSAS CITY -- The Mariners were sorely in need of a clutch two-out hit and Kendrys Morales finally delivered one at a most opportune time.
After another long night of near-misses, Morales made all of the frustration go away with one swing when he launched a go-ahead two-run homer to center off Royals reliever Aaron Crow in the ninth inning -- lifting the Mariners to a 6-4 win on Wednesday night at Kauffman Stadium.
Crow, the eighth Kansas City pitcher, had two strikes on Morales with a runner at first in a tie game. Then, Morales got a pitch to drive and the homer put a dent in the Royals' American League Wild Card playoff hopes and a spring in the step of the Mariners.
"He needed that, and we needed that," manager Eric Wedge said.
The Mariners (63-76) snapped a three-game losing streak on a night when they banged out 11 hits and held the Royals hitless in eight of the nine innings. Nevertheless, it looked like victory might be elusive again after an early 4-0 lead evaporated while Kansas City kept defusing Seattle rallies.
With the game tied at 4, the Mariners had two on and none out in the sixth, and a runner at second and none out in the eighth. The Royals just kept wiggling out of predicaments until Morales came up huge in the ninth with his 18th homer.
"I had to open up my zone with two strikes," Morales said through translator Raul Ibanez. "[Crow] tried to throw a pitch away, but he left it out over the plate."
Crow got the first out in the ninth and had a 1-2 count on Gutierrez before walking him. After Kyle Seager flied out, Morales smashed his homer to the left of the 410 sign in center.
"The home run was what lost the game, but 1-2 in that [Gutierrez] situation, you've got to put that guy away," Crow said. "If he makes an out, then Morales doesn't even get up so you don't even have to worry about that."
The evening couldn't have started much better for the Mariners, as prize prospect Taijuan Walker breezed through the first three innings and the offense chased Kansas City starter Ervin Santana with two runs in the third and two more in the fourth.
But Walker temporarily lost his command in the fourth and the Royals responded with a four-run rally. Emilio Bonifacio drew a leadoff walk and, after Eric Hosmer singled, Billy Butler came through with an RBI single. Salvador Perez added a sacrifice fly and Jarrod Dyson later took an 0-2 pitch through the middle for a two-run single.
"I felt like [Walker] just came up in the zone a little bit," Wedge said. "I was glad to see him get through it and then I was really happy to see him go back out there in the fifth."
Although Walker was on a limited pitch count and expected to throw in the 70-pitch range -- he wound up throwing 79 pitches -- Wedge felt it was important for him to go back out for the fifth. The right-hander worked a clean inning to end on a positive note rather than departing after the rocky fourth.
"That proves something to him," Wedge said. "Now it's a tie ballgame. With the emotions he had after the fourth, it was important for him to right himself and pitch a clean fifth." Walker said he appreciated the opportunity to pitch the fifth and leave the game after bouncing back with a strong inning.
"I wanted to have a clean inning and keep my team in the game," Walker said.
The Mariners received excellent work from their bullpen as Carter Capps, Lucas Luetge and Danny Farguhar combined for four hitless innings.
But the stout pitching from the bullpen might have gone to waste if not for Morales.
"You've got different options there," Royals manager Ned Yost said. "You can go down and in, you can bust him up and in or you can throw a slider at his back foot. But you don't want to throw one out over the plate like that."
Morales was a popular guy after circling the bases and heading back to the dugout for a round of congratulations.
"With that home run, there was a sigh of relief," catcher Mike Zunino said. "We were grinding at-bats and missed a couple of opportunities with guys in scoring position. But he picked us up right there."
Robert Falkoff is a contributor to MLB.com. This story was not subject to the approval of Major League Baseball or its clubs.